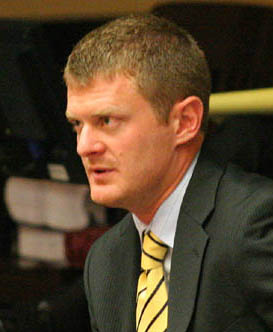 October 05, 2012 – A Swiss tribunal has found Floyd Landis guilty of defamation against Patrick McQuaid and Henricus [Hein] Verbruggen, respectively the president and honorary (past) president of the UCI. Landis, an American who finished first at the 2006 Tour de France but was subsequently disqualified because of a positive doping test for synthetic testosterone, has made various derogatory comments about the two men.
The  judgment issued on September 26 forbids Landis from making further accusations against McQuaid and Verbruggen. According to court documents, Landis claimed that the two men: "…have concealed cases of doping, received money for doing so, have accepted money from Lance Armstrong to conceal a doping case, have protected certain racing cyclists, concealed cases of doping, have engaged in manipulation, particularly of tests and races, have hesitated and delayed publishing the results of a positive test on Alberto Contador, have accepted bribes, are corrupt, are terrorists, have no regard for the rules, load the dice, are fools, do not have a genuine desire to restore discipline to cycling, are full of shit, are clowns, their words are worthless, are liars, are no different to Colonel Muammar Gaddafi, or to make any similar other allegations of that kind."
The judgment also orders Landis to make payments of 10,000 Swiss francs ($10,539 CDN) to McQuaid and Verbruggen, pay various court costs, and publish (at his own cost) a retraction in eight publications as follows:
- Wall Street Journal (New York, USA);
- L'Equipe (Paris, FR);
- Le Temps (Geneva, CH);
- NYVelocity.com (New York, USA);
- Cyclingnews.com (UK);
- Velonation.com (Chevy Chase, Maryland, USA);
- Velonews.com (USA);
- De Volksrant (Amsterdam, NL)
UCI has won its case against Landis, but his essential message will likely not go away. The U.S. Anti-doping Agency (USADA) is likely make very similar allegations as Landis when it delivers its "reasoned response" on the Lance Armstrong case to the UCI, now expected on October 15. The USADA file is likely to claim that the UCI covered up a positive drug test by Lance Armstrong during the 2001 Tour de Suisse as reported in The Australian. That article carries the headline, "Armstrong report promises ugly reading for cycling's governing body." This article is written by David Walsh.
Walsh, the chief sports writer at The Sunday Times is also co-author of "L.A. Confidentiel," a book published in French in 2006 that is very critical of Lance Armstrong. Walsh Tweeted recently about the UCI court victory over Landis, saying "Floyd Landis, who wasn't served with a notice of the case against him, has been sanctioned by a Swiss court for questioning integrity of UCI." In another Tweet, Walsh wrote:  "Landis is lucky because Gaddafi is deceased and can't be libelled. If he was still around he would surely have sued Landis for this slight."
Read more HERE.