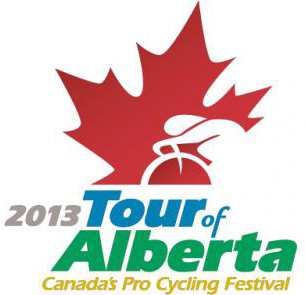 June 07, 2013 (Edmonton, AB) – Five UCI World Tour professional cycling teams — including the previously announced Garmin-Sharp (U.S.), Cannondale Pro Cycling (Italy), BMC Racing Team (U.S.), Blanco Pro Cycling Team (Netherlands) and Team Argos-Shimano (Netherlands) – highlight the initial teams announced for the first and largest stage race ever held in Canada — the Tour of Alberta, September 3 to 8, 2013.
China's top pro continental team Champion System Pro Cycling Team, Canadian continental team Equipe Garneau-Quebecor and American Team SmartStop presented by Mountain Khakis, and the top U.S. continental team Optum Pro Cycling presented by Kelly Benefit Strategies round out the initial nine of 15 teams announced.
"We are extremely pleased with the interest we received from cycling teams around the world about participating in the inaugural year of the Tour of Alberta, and very excited to confirm some of the top teams in the world will be racing in the province this September," said Duane Vienneau, the Executive Director of the Alberta Peloton Association, which is organizing the Tour of Alberta. "Cycling fans will be thrilled, and fans new to the sport will be blown away by the calibre of the teams and the athletes who will be coming to Canada this fall."
Garmin-Sharp's squad is comprised of many top North American riders, including: Canadian cyclist Ryder Hesjedal; the 2012 Tour of Italy winner as well as 2012 USA Pro Challenge winner Christian Vande Velde; 2011 Tour de France top American finisher Tom Danielson; Tour de France stage winner Tyler Farrar; and rising stars like Dan Martin of Ireland.
Cannondale Pro Cycling is Italy's top squad and consists of star riders like Peter Sagan, a 10-time stage winner of the Amgen Tour of California and a three-time Tour de France and Sprint Points jersey winner in 2012, and other sprinters including Elia Viviani, a recent stage winner in France's Criterium du Dauphine.
The BMC Racing team is one of the teams with the most depth on its roster, which includes: world-champion Philippe Gilbert; former World Champion and 10-time Tour de France stage winner Thor Hushovd; American rising star Taylor Phinney, who finished fourth in both the road race and time trial in the 2012 London Olympic Games; sprinter Daniel Oss, a stage winner in the 2011 USA Pro Challenge; and American sensation Tejay van Garderen, the 2013 Amgen Tour of California winner and fifth place overall finisher in the 2012 Tour de France.
Blanco Pro Cycling Team is the Netherlands' top professional squad and boasts a deep and talented roster that includes: Robert Gesink, the 2012 Amgen Tour of California winner and 2010 Grand Prix Montreal World Cup winner; young upstarts Wilco Kelderman and Stef Clement; one-time Tour de France KOM leader Laurens Ten Dam; and four-time Tour de France stage winner Luis Leon Sanchez.
Optum Pro Cycling presented by Kelly Benefit Strategies continues to pursue winning at the highest level and is one of the top teams racing on the Americas Tour continental calendar. The team's roster includes: recently crowned 2013 U.S. National Time Trial Champion Tom Zirbel; Chad Haga, who recently finished 10th overall at this year's Amgen Tour of California; and U.S. National Criterium Champion Ken Hanson.
Team Argos-Shimano is a new Pro Tour team and contains many top sprinters including Marcel Kittel, considered one of the fastest men in the world.
Champion System is Asia's top professional squad and its roster contains five national champions, including 2012 Canadian National Champion Ryan Roth as well as Ryan Anderson, of whom originally hails from Edmonton.
Equipe Garneau-Quebecor is a new continental team, which shows signs of the growth of professional cycling in Canada. The team is sponsored by famed Canadian cyclist Louis Garneau, considered by many as one of Canada's trailblazers of the sport.
The remaining six teams to fill out the 15-team field will be announced later this month, and the final team rosters will be announced in August.
"The field is very strong already for a first-year event, which demonstrates the relevance of the inaugural Tour of Alberta," said Chris Aronhalt of Medalist Sports, a managing partner for the event management group hired for the event and which also manages the Amgen Tour of California, USA Pro Challenge and Larry H. Miller Tour of Utah in the United States. "Cycling is growing tremendously on this continent and Canada, and specifically Alberta, will see some of the world's best athletes coming to its corridors in September 2013."
As the first pro cycling race of its kind to be held in Canada, the Tour of Alberta is expected to attract significant international attention, and feature top professional teams from around the world, including Tour de France competitors and world champions.
More information on the Tour of Alberta can be found here. Follow the Tour of Alberta on Twitter or on Facebook at TourofAlberta.
About the Tour of Alberta: The Tour of Alberta: Canada's Pro-Cycling Festival is a six-day stage race scheduled to be held September 3 to 8, 2013. The Union Cycliste Internationale (UCI), cycling's governing body, awarded the inaugural Tour of Alberta with a 2.1 sanctioning in September 2012, making it the highest level pro cycling stage race in Canada, and one of the highest level events in North America. An annual event beginning in 2013, the Tour of Alberta will feature up to 15 professional, international cycling teams, comprised of eight riders per team. The event will be broadcast live daily in Canada on Sportsnet, and broadcast internationally on various networks, as it is expected that the event will host riders from over 20 countries around the world.
2013 Tour of Alberta Route At-A-Glance
Prologue – Capital Start
Tuesday, September 3 – Edmonton
Start/Finish Location: Sir Winston Churchill Square (99 Street and 102A Avenue)
Distance: 7.3 kilometres
Stage 1 – Heartland Highways
Wednesday, September 4 –Strathcona County to Camrose
Start Location: Festival Place (100 Festival Way)
Distance: 158 kilometres
Finish Location: Recreation Centre (5212 53 Street)
Stage 2 – Country Roads
Thursday, September 5 — Devon to Red Deer
Start Location: Downtown (Athabasca Avenue between Erie and Huron Streets)
Distance: 175 kilometres
Finish Location: 50th Street, between 47 and 48 Avenue
Stage 3 – Dinosaur Trails
Friday, September 6 — Strathmore to Drumheller
Start Location: Downtown, 2nd Avenue between and 3 Street and Lakeside Boulevard
Distance: 169 kilometres
Finish Location: Riverside Drive and Centre Street
Stage 4 – Racing the Rockies (Queen Stage)
Saturday, September 7 – Black Diamond to Canmore
Start Location: Oilfields High School (3rd Street between 3rd and 5th Avenue)
Distance: 200 kilometres
Finish Location: Canmore Nordic Centre (1988 Olympic Way)
Stage 5 – Stampede Finish
Sunday, September 8 – Okotoks to Calgary
Start Location: Seaman Stadium (2111 N. Railway Street)
Distance: 132 kilometres
Finish Location: Downtown Calgary (Centre Street and 4th Avenue)