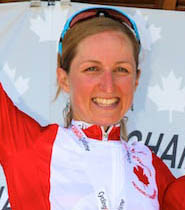 June 29, 2012 – The CBC final countdown for Canada's Flag Bearer at London 2012 Olympic Games is between two rock stars in sport, Elite Women's MTB World Champ Catharine Pendrel, the number 8 seed woman in CBC's people's choice vote, and triathlon Olympic gold medalist Simon Whitfield, the No. 2 seed on the men's side.
Pendrel has taken out everyone to reach the final pulling off three upsets including Olympic teammate and No. 2 seed Clara Hughes and the final showdown with Whitfield ends July 3.
Voting will remain open until 6 p.m. ET on Tuesday, July 3, with the winner announced on Wednesday, July 4
Vote HERE.