August 30, 2011 (Champéry, Switzerland) – Of the initial selection list published earlier this summer by the Canadian Cycling Association, there have been a few changes to the list, especially in the downhill and four-cross categories.
In cross country, Andrew Watson of Barrie, ON, will be racing in the Elite Men category. Neal Kindree will not be competing.
In downhill, 2010 silver medallist Steve Smith of Cassidy, BC will not be racing as he suffered an injury prior to the last World Cup of the 2011 season. Micayla Gatto of Garibaldi Highlands, BC will also miss the competition as she is healing an injury occurred at the 2011 Canadian BMX Championships.
Andrew Mitchell will be absent, so as Yann Gauvin in the Elite Men race. Remi Gauvin of Nanoose Bay. British Columbia, only related to Yann by their mutual passion for downhill racing, will be competing for the World title.
Anne Laplante of Gatineau, QC, who was selected to race in both the DH and the four-cross, elected not to make the trip overseas. Denise Uyseugi, who was to race in the Elite women category, is also not part of the delegation here in Champéry.
In four-cross, only Harold Woolnough of Toronto, ON will be the only Canadian in the contest as Matt Zdriulk and Kye Walstrom both chose not to race.
In the spectacular cycling discipline of Trials, Canada will be represented by John Webster. Webster cracked the finals in the 2010 edition of the UCI Mountain Bike and Trials World Championships in Mont-Sainte-Anne.
Canadian Team to Ride in Support of Nick Geddes
The Canadian Downhill Mountain Bike Team and the Canadian Cycling Association staff will be wearing yellow shoelaces this week at the 2011 UCI Mountain Bike Championships, an initiative to show their support for Canadian downhiller Nick Geddes, currently fighting Leukemia since March at home in Canada.
The initiative is led by Claire Buchar of Whistler, BC, the 2011 Downhill Canadian Champion in the Elite women category, and the entire downhill team joined in to show their respect and support for Geddes.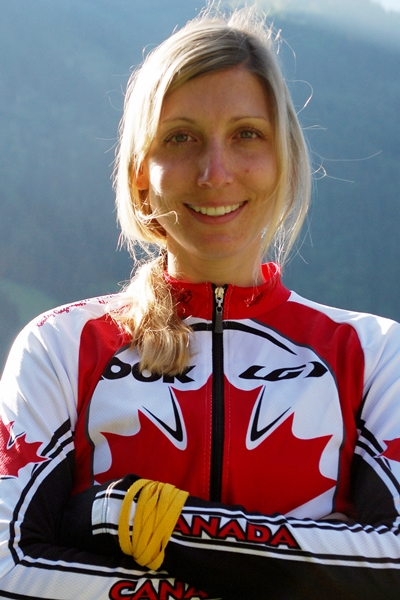 "Nick is a friend, a well-respected member of the Canadian Downhill community," said Buchar, currently in Champéry, Switzerland, as she prepares for the 2011 UCI Championships held this week. "That's why we came up with the idea of the yellow shoe laces. We are all thinking hard of Nick, who had to stay home to receive treatments. When we take to the start gate on Sunday, Nick will be in all our minds."
Remi Gauvin of Nanoose Bay, shares his thoughts with Buchar. "I paid Nick a visit last Friday, prior to my departure for Worlds. He's seen better days, but he's a trooper and will fight. He's a close friend, a tough competitor and we wish him the best of recovery as he's fighting this terrible disease."
Geddes was devastated when he learnt he was diagnosed with leukemia back in March, a form of blood and bone marrow cancer characterized by an abnormality in white blood cells. Geddes recently received a bone marrow transplant as he's fighting the disease.
Geddes, a downhiller, competed for Canada at the 2010 UCI Mountain Bike Championships in Mont-Sainte-Anne where he finished 19th in the Junior category. Geddes finished second at the 2010 Canadian Mountain Bike Championships in Panorama, BC, and that same year won the Canada Cup overall rankings in the junior category.
Geddes won the 2010 Fuidride Cup #1, finished second in the 2010 Pro GRT #1 race, and placed fourth in the Crankworks-Garbonzo race in 2010.