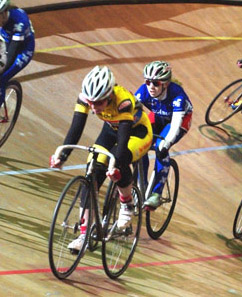 June 05, 2012 London, ON) – The Forest City Velodrome (FCV) is pleased to release the 2012 – 2013 bicycle racing schedule.  The FCV will again present 15 nights of exciting bicycle racing at the 138m indoor facility in London Ontario.  The added bonus in the month of October is the first 6Day bike race in Ontario in 4 years.  Albert will enjoy every minute of the racing action.
Some of the highlights of the schedule include:
– Track Provincials for all categories on the weekend of August 3rd and 4th.
– FCV Memorial 6Day Bike Races (Oct 4 – 6 & Oct 11 – 13th)
– 2012 Christmas Camp (December 26th – 30th) space will be limited.
– FCV Youth Championships February 26th 2013.
The Forest City Velodrome and our members invite you too attend one of our many programs that are run at the track… from the Introduction to track riding – spectating at one of the very exciting Saturday night shows.
The 2012 – 2013 track racing event schedule can be seen HERE.
The next 30 years looks very bright for the future of track riding and racing in Canada…. why not get involved.
See you on the boards.
FCV Executive