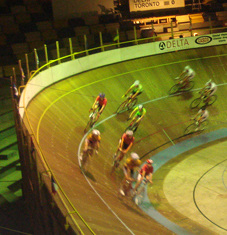 October 16, 2013 (London, ON) – The leaves are changing on Southern Ontario and the winter track season will begin this Saturday night at the Forest City Velodrome in London Ontario. The race program is a great cross section of Track racing events from Endurance races to sprints, Elimination races to Madison's, there will be events that cover the spectrum for the track racing enthusiast. Many of Ontario's top track racers will be in attendance, with racing set to get started at 7pm.
Saturday's program kicks off 19 race dates at the 138m high banked oval.  The boards will be fast with the resent warm spell of weather in the Province.
The Future Stars will be strutting their stuff in several longer races to demonstrate the training these kids (ages 8 – 12) have been doing over the summer.  This will be a huge step up for the 2014 season.
In addition to the Kids, there will be racing for all categories and ability levels.  Track opens for warm-up at 6pm.  Race day  registration is $20.00 and can be paid at the track.  There is no online registration for this event.
Spectators are welcome, Adult admission is $10.00, Seniors $5.00, Kids are always FREE.
For more information about the FCV and the winter programs: <http://www.ForestCityVelodrome.ca>www.ForestCityVelodrome.ca