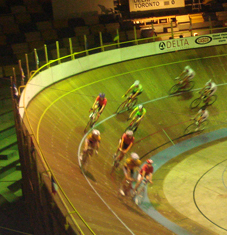 December 08, 2015 (London, ON) – Gotta love the weather. I've seen a lot of you on Facebook taking to the roads around your area. I know I've heard from a few of you that you will be making the trek to London Saturday night. We are hosting 19k Challenge – a 138 lap race final feature of the night, but racing will be for all categories. Also, this Saturday the FCV is hosting our Veloswap. Buy/Sell bike gear. That starts at 10am and runs until 4pm.
Saturday at the FCV is special. Programming begins at 8:30am with open riding time, and at 11:30am, we put on a hard interval session: Sadistic Saturdays. Youth riders have a workout session from 2:30pm-5pm. Your race registration gets you access to all the programming that day.
We welcome all US riders to ride/race; however, we are running sanctioned races this year, so a UCI license is required to race, We could have done one day permits, but the cost of insurance is prohibitive. Damn lawyers.
Race sign in starts at 5:30pm and closes at 6:30pm. The track is open for warmup from 6-7pm, and racing starts at 7pm.
The schedule of events for this Sat race night is here.
Registration is available here.
I looked at the weather Sat: NO SNOW! It should be good for the drive.
If you have any questions, please ask.