January 19, 2017 – Riding in the winter season used to be reserved for hardcore commuters and a select few mountain-bike riders who just refused to make the jump to ski sports in the off-season. Now, with the introduction and surge in popularity of fatbikes, more bums are staying on bicycle seats all four seasons, as winter fatbike riding is enjoyable, exhilarating and fun! Here are a few do's and don'ts to get you started this winter season.
Don't dress in one big bulky jacket.
Do dress in layers.
Riding in cold weather is a challenging proposition, as your effort turning the pedals will produce heat and sweat, so it is important to layer properly in order to remain comfortable and warm out on the bike. A wicking base-layer is an important, with a long-sleeved jersey and insulating jacket over top. Don't be afraid to use non-cycling-specific clothing either, as warmth is much more important than fit when fatbiking.
Don't dress in cotton.
Do dress in wool.
Wool is a great choice for winter fatbike riding, as it continues to keep you warm even after it is wet. A hooded base or mid-layer is a great option, as the hood covers both your head and neck, preventing that unwanted cold-air draft.
Don't forget about your feet.
Do think to keep your feet warm.
New footwear on the market makes it easier to keep your feet warm in the deep cold of the Canadian winter. If you plan to ride outside a lot, invest in a good pair of winter-specific cycling boots that put warm feet at the forefront of their design. Hot packs can be stuck to the top and or bottom of your toes to extend the time to cold feet. With cycling, your feet are static – stuck to the pedals. So when the temperatures dip ridiculously low, be sure to get off your bike and walk or run from a few seconds to a couple of minutes before your feet get too cold to easily stimulate the flow of warm blood to your bottom extremities.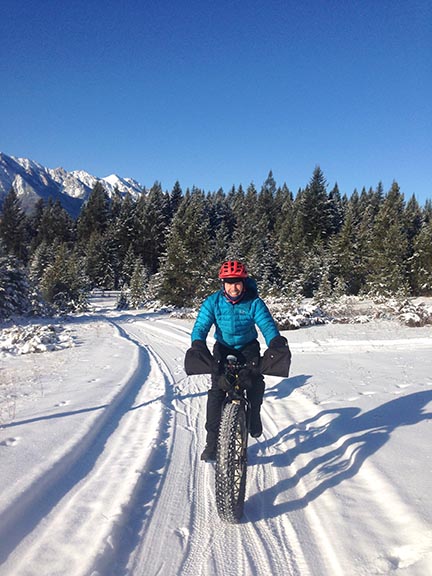 Don't let your hands get cold.
Do spend money to keep your digits warm.
Metal handlebars conduct heat better than plastic (carbon) handlebars, so if it is in your budget, upgrade to carbon – sorry, it's just simple thermodynamics at play. This will lessen the heat loss from your hands, keeping them warmer. Battery-powered heated gloves are also available and provide hours of warm digits. Heated grips are also an option; also the addition of over-mitts (a.k.a. Bar Mitts/Poggies) are surprising effective in cutting down the wind and increasing the warmth of your hands – often resulting in the need for a lighter-weight gloves inside that boost dexterity and improve bike handling in the absence of a bulky glove.
Don't let the dark get you down.
Do invest in a good light.
North of the 49th parallel, we reap the reward of long hours during the summer, but suffer in the dark during winter. A good set of lights coupled with the white of the snowpack make fatbiking at night enjoyable.
Don't pump your tires too hard.
Do use a special tire-pressure gauge.
Fatbike tires perform best at extremely low pressures, so invest in a simple tire gauge specifically for low PSI measurements so as to ensure you are dialing in the optimal pressure. Look for an analog or digital gauge with a scale to 15 or up to 30 PSI.
Don't always go solo.
Do participate in group rides.
The Canadian winter can be long and dark, but that doesn't mean it can't be fun. Participating in a fatbike group ride during the winter season can make you feel like a kid again, blasting through the snow with like-minded individuals. Beat those winter blahs with some fat-tires and fun friends.