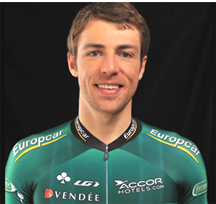 June 25, 2013 – Team Europcar manager Jean-Rene Bernaudeau has handed maiden Tour selections to
Canadian David Veilleux
and Frenchmen Kevin Reza and Jerome Cousin.
The trio will be joined by new Japanese national champion Yukiya Arashiro, Italy's Davide Malacarne and Frenchmen Cyril Gautier and Yohann Gene to ride in support of team leaders Rolland and Voeckler in the Grande Boucle – the Pro Continental team's major target of the season.
Directeur sportif Sebastien Joly said on Monday, five days before the start of the Tour, that it was "always a difficult decision to make" when it came down to the final team selection for such a prestigious race.
But the decision made by Team Europcar came down to two imperatives: "to construct a solid team around our two leaders Pierre and Thomas, and to put a strong emphasis on youth".
To this end, Europcar have put their faith in 25-year-old Veilleux, who wore the leader's yellow jersey for four days after winning the opening stage of the Criterium du Dauphine earlier in the month, 25-year-old Reza and 24-year-old former track star Cousin.
"They have all reached maturity having made regular progression within the team," said Joly. "We're keen to help them continue to progress by testing them with a three-week stage race of this calibre. Besides, they're not exactly novices – each one of them has already taken part in big races."
The newcomers will be entrusted with protecting their leaders and may have their own chances to break away – much like Veilleux did so brilliantly in the first stage of the Dauphine.
Gautier, the 25-year-old all-rounder who was part of a break in stage eight in last year's race, rides his fourth consecutive Tour de France and is already an old hand at such a tender age.
Another 25 year old, Malacarne returns for his second Tour after finishing 59th in his debut last year. 28-year-old Arashiro is a veteran of three Tours while 31-year-old Gene returns for a third Grande Boucle.
In 2011, Gene became the first black rider to take part in the Tour de France; this year Reza becomes the second – and Europcar will be the first team to select two black riders in the 110-year history of the race.
All eyes will be on Rolland and Voeckler, who between themselves have won four stages in the past two Tours. 34-year-old Voeckler wore the yellow jersey for 10 days in 2011 and won two stages in 2012 en route to securing the polka dot jersey in Paris. The in-form Voeckler will be given a "free role" during the race, which he enters in fine fettle following victories in the Dauphine and Route du Sud.
Twenty-six-year-old climber Rolland won on Alpe d'Huez in 2011 en route to taking the white jersey, and followed that up last year with victory in stage 11 and a top ten finish in Paris.
Rolland is Europcar's designated "leader for the general classification" – and will rely on the likes of Voeckler, Gautier and Malacarne to support him in the mountains as he aims to break into the top five and retain his place as the best Frenchman in the peloton.