September 19, 2011 (Town of the Blue Mountains, ON) – This weekend, just over 3,000 cyclists took the second edition of Subaru Centurion Canada to new heights.  In picturesque conditions amongst the hills of the Blue Mountains, athletes competed in a host of cycling events, most notably being the C25 mile, C50 mile and C100 mile races.
As the sun came up on Sunday morning, the cyclists left the foot of the Blue Mountain Resort to begin either a 50 mile or 100 mile journey through the surrounding towns.  After over four hours of competitive back and forth jockeying, Bruce Bird won the Men's C100 Title, with Merrill Collins besting all other C100 females.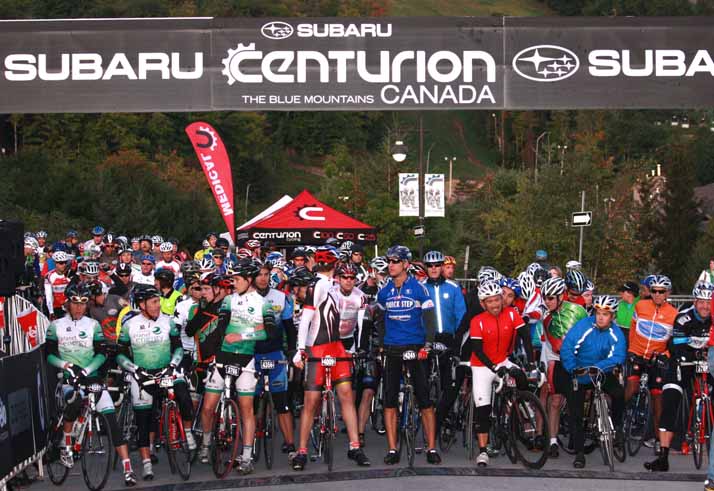 In the C50, Matthew Hopkins of Welland and Karen Lockridge of Toronto came out victorious, ahead of more than 1,250 other riders. Titles in the C25 mile race, which took place on Saturday after the always enjoyable Centurion Kids' Rides, went to Collingwood resident Ben McNabb and Kelly McFater of Richmond Hill.
Not only was this weekend about road cycling, but $6,000 was also on the line in Saturday's TIMEX Vertical Challenge.  Eight competitors, including former Subaru Ironman Canada Champion Jasper Blake, fought for the purse in the gruelling climb up to Scenic Caves. Winning was Andrew Watson of Barrie who also won the Centurion Hill Climb and Ontario Cycling Association Championship, won by OCA members Watson of Barrie and Mandy Dreyer of Hamilton.
Though cycling races are usually accompanied with their own unique sounds, Subaru Centurion Canada took a little break from the cowbells Saturday afternoon for a well-attended free concert by Juno award-winning artist Sam Roberts.
For full results including age group, King Of the Mountain (KOM) and team placements click HERE.