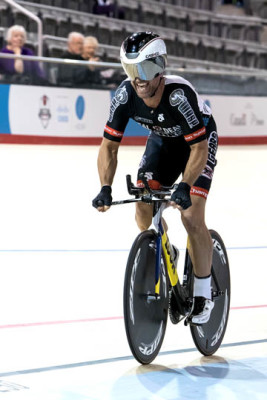 April 10, 2015 (Milton, ON) – #EDSHOUR record attempt is underway at the new Milton Velodrome. Ed Veal, a 38-year-old Canadian National Cycling Team member, is trying to set a new world record – the "Best Hour Performance" in the Master Men's 35-39 category, as well as the new outright Canadian Hour Record at the new Mattamy National Cycling Centre in Milton, Ontario.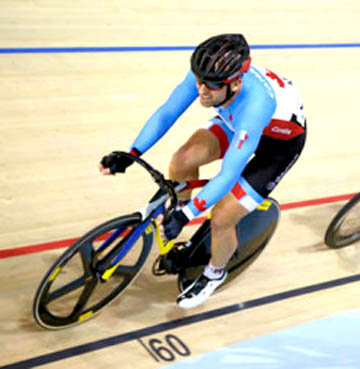 The decision to attempt the feat comes after a year of personal and team victories for Veal, who broke two Canadian records (4,000-metre Team Pursuit and Individual Pursuit) in September 2014. Veal took up cycling late, at age 26, starting with mountain biking and then making the switch to road. "The late start has never held me back," he says. See current record holders below and #EdVealfacts.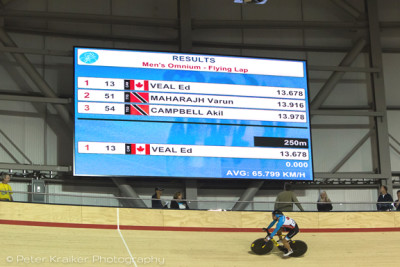 Pedal and all of Ed's fans wish him the best of luck in his attempt to set a new Canadian Hour Record and Master Men's 35-39 category record as well.
Ed Veal
Height: 6′ 2″
Weight: 190lbs
DOB: August 1, 1976
Team
Andrew Iler – Head Coach
Helene Barrette – Assistant
Jessica Puddifant – Marketing and Sponsorship
Rol Miller – DJ/Master of Ceremonies
Steve Fleck – Master of Ceremonies
Sponsors
Paul Devries – Powerwatts – powerwatts.com
Howard Chang – Top Drawer Creative – topdrawercreative.com
Mike Dennis – Segal – segalllp.com
Norbert Frischkorn – FrischkornMEDIACO – mediaco.ca
Rob Keilty – Hub HKMB Insurance – hkmb.com
Som Seif – Purpose Investments – purposeinvest.com
John Ruffolo – OMERS Ventures – omersventures.com
Pedal Magazine – pedalmag.com
Current Canadian Hour Record
Mike Nash (Ottawa, ON)
45.95km
Manchester Velodrome
Manchester, UK – set in 2011
Current 35–39 World Hour Record
Jayson Austin (Australia)
48.315km
Dunc Gray Velodrome
Sydney, Australia – set in 2009
Current World Hour Record
Rohan Dennis (Australia)
52.491km
Velodrome Suisse
Grenchen, Switzerland – set in 2015
Gold Standard Hour Record
Eddy Merckx (Belgium)
49.431km
Mexico City Velodrome
Mexico City, Mexico – set in 1972
GO ED!
Read Ed Veal's new Track Column
along with Monique Sullivan
in Pedal Magazine