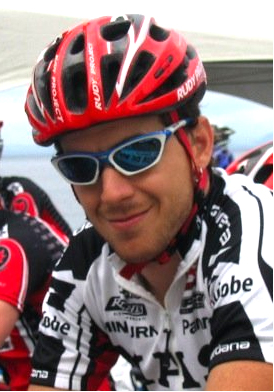 August 17, 2012 – Canada's top cyclists undoubtedly arrived in London poised for greatness. They entered these Games with world champions and world cup winners amongst their roster. They were bold enough to predict not just three medals but that that was a conservative estimate.
Great Expectations
Comparisons were made to the 1996 Games where Canada's riders won medals in all three cycling disciplines (BMX having not yet been added). Fortunes look good as during the period following Beijing in 2008, Tara Whitten won three world titles, and Catharine Pendrel became the standard against which female mountain bike racers are measured. Zach Bell was a contender, and who could forget, that Canada had something new – a Grand Tour Winner! While Ryder Hesjedal was outnumbered in the road race, surely he could be counted on to repeat his high pressure time trial performance of the Giro. Added to this stellar list was Clara Hughes, a Canadian sporting legend, who had returned to the sport to fulfil her manifest destiny of becoming Canada's most decorated Olympian.
And yet we fell short…
First Ryder crashed out of the Tour de France putting a cloud over his conditioning.
Then Hughes could not match the torrid pace of American Kristin Armstrong – herself on a comeback trail from both having her first child and breaking her collarbone at the Exergy Tour.
Whitten fought a six-round out-and-out war with the top athletes from Great Britton, Australia and the United States. And lost… so narrowly and heartbreakingly.
And perhaps most inexplicably, Pendrel, Canada's most consistent performer, an athlete with a history of rising to the occasion at the biggest events, just had an off day. It's something ordinary in bike racing, something that happens at some point to everyone that has ever raced a bike. At any race on any given day there is always one favourite that falls short.
Pendrel lined up for glory, but it just wasn't her day. She rose to the occasion four years ago in Beijing to finish 4th, and has has gone from strength to strength ever since, but faded badly on the open exposed course in Hadleigh Farm to come ninth. At just about any other race, in any other year, Pendrel and her MTB coach, Dan Proulx, could just call it an outlier and move on – but unfortunately it happened on a day that only comes once every four years.
Jacques Landry, the Chief Technical Officer and High-Performance Director of Cycling Canada, offered some sage words afterwards when he told the media to remember that both Pendrel and Whitten are world champions – and remain champions. Fans of Canadian cycling can take pride in the way our athletes fought through adversity.
Perhaps there was no better example of this than Zach Bell, who when clearly not in the form that he had hoped to be, and with his medal ambitions slipping through his fingers, chose to go on the attack rather than concede defeat. His win in the Scratch race did little to help his overall placing – but it spoke volumes of his character.
Monique Sullivan, in her own quiet and unassuming way, did what Olympians should do. She fought uphill for two years to even qualify a spot at these Games, and when she got the opportunity to compete, she put together some of the best races she has ever had.
She combined the grit, tactics, speed and aggression needed to make the women's Keirin final – and in doing so earned the right to line up as one of the fastest six women in the world on two wheels. There was no medal for her at the end of the day – but in making the final she rose to the challenge and embodied the Olympic ideal.
From Atlanta to London
There is no doubt Canada's cyclists performed better in Atlanta than in London. The medals alone tell that story.
But there is another story, one where in London we have changed the markers for how we wish to be measured. While every medal in Atlanta seemed to come with a story of an upset ride from an underdog (with the exception of Curt Harnett in the men's sprint and Alison Sydor in the women's MTB race) Canada came to London hungry for more. We had raised our expectations for London.
We had riders that could win, and they were justifiably upset when they did not.
They were well supported, by systematic work that was done behind the scenes in the year leading up to the Games (and long before as well) to help ensure our riders had the best possible environment to perform.
Geoff Kabush, riding to eighth place and Canada's best-ever men's cross-country result, thanked Proulx and the rest of the staff that made it possible. Kabush has a pretty good frame of reference when it comes to Olympic performances. He set the previous benchmark twelve years ago in Sydney when he was ninth.
Nowhere was this transformation seen more clearly than in the event where Canada did medal – in the inaugural Women's Team Pursuit. Four years ago when it was announced that this event would be included in the Olympics, key individuals chose to focus on it as an avenue for a medal. A plan was laid out. And it was followed up with training camps, a base in Los Angeles, adding staff that included physiotherapists and nutritionists, trips to the wind tunnel and efforts to procure the best equipment available. And it paid dividends with a shining set of bronze medals for three talented athletes.
Within this inspirational performance lies the Road to Rio. Canada's cycling teams need to start planning now – other nations  have already – and follow through, but perhaps most important, procure funding for it all.
And hopefully, somewhere across the country, young kids have seen the efforts of Catharine, Monique, Zach, Tara, Geoff and the others and think to themselves that maybe one day they too can compete at the Games for Canada and perhaps win a medal.