April 10, 2015 (Milton, ON) – Ed Veal has done it. The veteran road and Canadian national track team member claimed the most prestigious title of his career today, setting a new Canadian Hour Record of 47.590km at the new Mattamy National Cycling Centre in Milton, Ontario.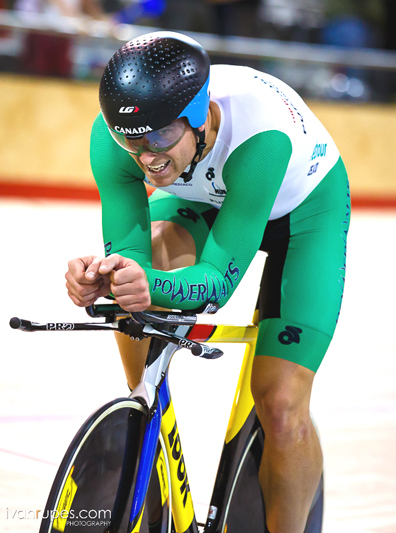 Veal, 38, covered 190 laps on his LOOK track bicycle surpassing Mike Nash's record of 45.95 set in Manchester back in 2011 but fell short of also claiming the Masters 35-39 category world record of 48.315km held by Australia's Jayson Austin and established in 2009. Another Aussie, Rohan Dennis (BMC), recently set the new world hour record of 52.491km in Grenchen, Switzerland this past February.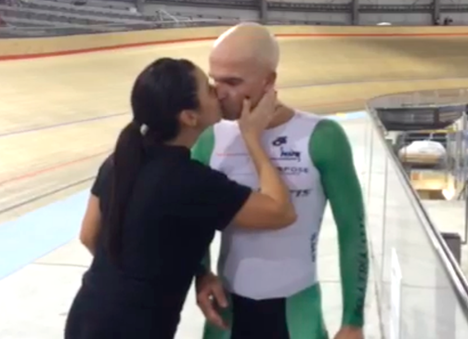 Long-standing and renowned commissaire Louise Lalonde was the chief official on site as Veal was averaging over 49km/h initially dropping to 48.736 at the halfway point. The popular Real Deal Racing coach from Toronto thrilled 200+ fans on hand as he smashed the Canadian record celebrating with a kiss from his better half, Jessica Puddifant, at the finish.
Veal, who started mountain biking in 2002 at age 26 and then switched to road, found his way on to the track as a tandem team pilot through Canada's Paracycling program. With hard work and never believing it was "too late for me" he made Canada's Team Pursuit squad and realized a dream competing at the Commonwealth Games in Glasgow, Scotland in August 2014. Last September he also broke two Canadian records – the 4,000-metre Team Pursuit and Individual Pursuit.
"It was a real mental game. Near the end it was it was like driving in some gutless car with your pedal to the floor and there is just no more there," the new title holder told Pedal – read more about Ed and the #edshour team here.
Full interview, more video coverage and photos to follow.
About Ed Veal
Ed Veal is a Canadian National Cycling team member and Cat 1 racer on the RealDeal/Gears p/b WASPcam elite amateur cycling team based out of Toronto, Ontario, Canada. He is also a cycling coach and owner of RealDeal Performance here. You can contact him at Ed@RealDealPerformance.ca and follow him on Twitter at @RealDealVeal, or via the hashtag #edshour.