May 10, 2016 (Barrie, ON) – Friday, May 13 is your last chance on this "lucky" day to save on entry to the SingleTrack Classic being held at Hardwood Ski and Bike on May 28.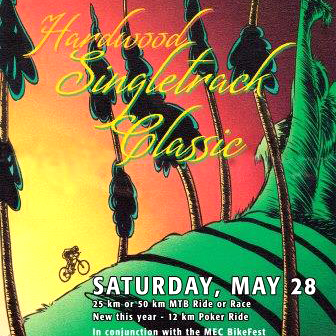 The Hardwood SingleTrack Classic is a new and "secret" 25km loop using the famously popular trails in and around Hardwood Ski and Bike. The "secret" will be that we completely mix up all the trails, changing direction, order, features and anything else to make sure this is a unique riding and racing experience. For those very familiar with the trails, or those new to Hardwood, the 25 km loop promises to be something completely different as well as fast, flowy and super FUN.
The SingleTrack Classic is personal challenge to ride or race 25km (1 loop), or 50km (2 loops) of the new course. There is also a 12km non-competitive fun Poker Ride utilizing the easier sections of the course for those not so keen on the longer distance.
Bring the Family!  The SingleTrack Classic will be hosted in conjunction with the MEC BikeFest, offering lots of other Activities, JoyRide Play Area, Clinics, Gear Swap, Bike Demo's, Beer Tent, Expo etc for all participants and friends and family.
On-line Registration is open until 5pm Friday May 27.  There is NO day of entry.
Easy Online entry here.
See full event details here.