January 01, 2018 (Baal, Belgium) – Tyler Clark (Team Canada) raced to a strong 12th place finish in the Junior Men's competition at the DVV verzekeringen trofee – GP Sven Nys on New Year's Day. Switzerland's Loris Rouiller took the win.
In the U23 Men's race Canada's Trevor O'Donnell placed 23rd as Eli Iserbyt (Bel) Marlux – Bingoal won over Adam Toupalík (Cze) Corendon – Circus in second with Thomas Pidcock (Gbr) Telenet Fidea Lions third. Team Canada's Magdeleine Vallieres Mill was 35th.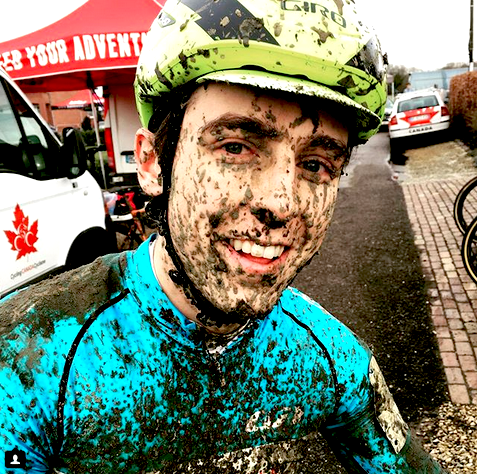 Katherine Compton (USA) Trek recovered from a crash to win the Elite Women's race over Annemarie Worst (Ned) Era-Circus with Maud Kaptheijns (Ned) Crelan – Charles in third.
Mathieu van der Poel (Ned) Beobank-Corendon won a muddy battle in the Elite Men's race with Wout Van Aert (Bel) Crelan – Charles second and Corne Van Kessel (Ned) Telenet Fidea Lions third.
Results
Junior Men
1. Loris Rouiller (Sui) 37:12:00
2. Anton Ferdinande (Bel) 0:07
3. Jarno Bellens (Bel) 0:10
4. Ryan Cortjens (Bel) 0:12
5. Vince Van Den Eynde (Bel) 0:23
6. Witse Meeussen (Bel) 0:41
7. Sean Flynn (Gbr) 0:42
8. Tomas Kopecky (Cze) 0:56
9. Wout Vervoort (Bel) 0:58
10. Filippo Fontana (Ita) 1:15
11. Gonzalo Inguanzo Macho (Esp) 1:22
12. Tyler Clark (Can) Team Canada 1:35
13. Jarno Jordens (Bel) 1:38
14. Witse Van Rillaer (Bel) 1:45
15. Bart Artz (Ned) 1:51
16. Michael Bervoets (Bel)
17. Len Dejonghe (Bel) 1:58
18. Bal‡zs Vas (Hun) 2:03
19. Lukas Malezsewski (Bel) 2:04
20. Yente Peirens (Bel) 2:05
21. Senne Van Der Veken (Bel) 2:19
22. Sander De Vet (Bel) 2:35
23. Matthew Taylor (Gbr) 2:56
24. Dylan Kerr (Can) Team Canada 3:59
25. Cedric Vandesompel (Bel) 4:12
26. Tomas De Laet (Bel) 4:18
27. Jason Van Compernolle (Bel) 4:22
28. Andres Verdonck (Bel)
29. Jorre Debaele (Bel) 5:00
30. Conor Martin (Can) Team Canada 5:25
31. Colton Woods (Can) Team Canada 5:31
32. Toon Clynhens (Bel) 5:35
33. Senna Van Cutsem (Bel) 5:54
34. Maxime Cockx (Bel) 6:03
35. Maarten Clauwaert (Bel) 6:39
36. Stef Janse (Bel) 7:27
37. Elias Nilsson (Swe) 7:36
38. Robbe Mellaerts (Bel) 8:21
39. Zach Larsson (Aus) 8:38
40. Maxim Laverge (Bel)
DNF Jens Clynhens (Bel)
Elite Men
1. Mathieu van der Poel (Ned) Corendon – Circus 58:59
2. Wout Van Aert (Bel) Crelan – Charles 0:58
3. Corne Van Kessel (Ned) Telenet Fidea Lions 1:36
4. Toon Aerts (Bel) Telenet Fidea Lions 1:37
5. Laurens Sweeck (Bel) Era-Circus 1:52
6. Kevin Pauwels (Bel) Marlux – Bingoal 2:59
7. Tom Meeusen (Bel) Corendon – Circus 3:04
8. Jens Adams (Bel) Pauwels Sauzen – Vastgoedservice 3:22
9. Gianni Vermeersch (Bel) Steylaerts – Betfirst 4:31
10. Wietse Bosmans (Bel) Era-Circus 4:51
11. Diether Sweeck (Bel) Era-Circus 5:07
12. Rob Peeters (Bel) Pauwels Sauzen – Vastgoedservice 6:27
13. Jim Aernouts (Bel) Telenet Fidea Lions 6:35
14. Stan Godrie (Ned) Crelan – Charles 7:01
15. Michael Boro_ (Cze) Pauwels Sauzen – Vastgoedservice 8:09
16. Hendrik Sweeck (Bel) Era-Circus
17. Dario Tielen (Bel)
18. Yelle Leaerts (Bel)
19. Alexander Forrester (Gbr)
DNF Michael Vanthourenhout (Bel) Marlux – Bingoal
DNF Tim Merlier (Bel) Crelan – Charles
DNF Felipe Orts Lloret (Esp) Ginestar – Delikia
DNF Dieter Vanthourenhout (Bel) Marlux – Bingoal
DNF Ismael Esteban Aguero (Esp) Ginestar – Delikia
DNF Joeri Adams (Bel)
Elite Women
1. Katherine Compton (USA) Trek 43:43:00
2. Annemarie Worst (Ned) Era-Circus 0:48
3. Maud Kaptheijns (Ned) Crelan – Charles 0:57
4. Sanne Cant (Bel) Corendon – Circus 1:02
5. Nikki Brammeier (Gbr) 1:04
6. Laura Verdonschot (Bel) Marlux – Bingoal 1:10
7. Ceylin Del Carmen Alvarado (Ned) Corendon – Circus 1:18
8. Kim Van De Steene (Bel) Tarteletto – Isorex 1:50
9. Ellen Van Loy (Bel) Telenet Fidea Lions 1:51
10. Loes Sels (Bel) Crelan – Charles 1:52
11. Helen Wyman (Gbr) Xypex-Verge Sport 2:19
12. Harriet Harnden (Gbr) 2:27
13. Anne Terpstra (Ned) 2:32
14. Thalita De Jong (Ned) 2:34
15. Marianne Vos (Ned) 3:05
16. Karen Verhestraeten (Bel) 3:20
17. Geerte Hoeke (Ned) 3:22
18. Jolien Verschueren (Bel) Pauwels Sauzen – Vastgoedservice 3:43
19. Pauline Delhaye (Fra) 4:47
20. Marthe Truyen (Bel) 5:18
21. Manon Bakker (Ned) 5:40
22. Alessia Bulleri (Ita) 5:44
23. Anna Kay (Gbr) 6:11
24. Jinse Peeters (Bel) Pauwels Sauzen – Vastgoedservice 6:39
25. Kata Blanka Vas (Hun) 6:47
26. Lizzy Witlox (Ned) 7:17
27. Veerle Goossens (Ned) 7:30
28. Asia Zontone (Ita) 8:23
29. Tessa Zwaenepoel (Bel) 8:44
30. Giorgia Fraiegari (Ita) 9:16
31. Shana Maes (Bel) 9:55
32. Natalie Tapias (USA) 10:05
33. Irene Gerritsen (Ned) 10:27
34. Corey Coogan Cisek (USA) 10:33
35. Magdeleine Vallieres Mill (Can) Team Canada 11:05
36. Gaia Realini (Ita) 11:32
37. Tess Van Loy (Bel)
38. Siobhan Kelly (Can) Team Canada
39. Jet Wildeman (Ned)
40. Erin Mitchell (Aus)
41. Lana Van Hool (Bel)
DNF Axelle Dubau Prevot (Fra)
U23 Men
1. Eli Iserbyt (Bel) Marlux – Bingoal 53:20
2. Adam Toupal'k (Cze) Corendon – Circus 0:11
3. Thomas Pidcock (Gbr) Telenet Fidea Lions 0:39
4. Stijn Caluwe (Bel) Corendon – Circus 1:32
5. Yannick Peeters (Bel) Pauwels Sauzen – Vastgoedservice 1:55
6. Jelle Schuermans (Bel) 1:59
7. Thomas Joseph (Bel) Marlux – Bingoal 2:05
8. Lander Loockx (Bel) 2:07
9. Ben Turner (Gbr) Corendon – Circus 2:25
10. Eddy Fine (Fra) 2:41
11. Niels Derveaux (Bel) Tarteletto – Isorex 3:10
12. Jens Dekker (Ned) Corendon – Circus 3:51
13. Victor Vandebosch (Bel) 3:57
14. Andreas Goeman (Bel) Telenet Fidea Lions
15. Johan Jacobs (Sui) Pauwels Sauzen – Vastgoedservice
16. Jarne Driesen (Bel) Marlux – Bingoal 4:04
17. Nick Van De Kerckhove (Bel) Tarteletto – Isorex 4:08
18. Gert Smets (Bel) Era-Circus 4:38
19. Jelle Camps (Bel) Pauwels Sauzen – Vastgoedservice 5:32
20. Senne De Meyer (Bel) 5:50
21. Sander Lemmens (Bel) 6:10
22. Stephen Lee (Gbr) 6:56
23. Trevor O'Donnell (Can) Team Canada 7:20
24. Nick Peers (Bel) 7:25
25. Lawrence Tibackx (Bel) 7:31
26. David Conroy (Irl) 8:04
27. Nicholas Smith (Aus) 8:37
28. Niels Vandenbroucke (Bel) 8:42
29. Thomas Van De Velde (Bel)
30. Nicholas Diniz (Can) Team Canada
31. Carlos Schreuder (Ned)
32. Albert Poblet Dot (Esp)
33. Lander Tibackx (Bel)
34. Pieter-Jan Vliegen (Bel)
35. Maxime Carriou (Fra)
36. Declan Prosser (Aus)
37. Eric Meyers (Lux)
38. Finlay Robertson (Gbr)
DNF Gr_gory Careme (Bel)
DNF Ben Walkerden (Aus)
DNF Jarno Liessens (Bel)
DNF Florian Vermeersch (Bel) Pauwels Sauzen – Vastgoedservice
DNF Gianni Siebens (Bel)
DNF Brody Sanderson (Can) Team Canada
DNF Roel Vandael (Bel)