December 22, 2017 (Edmonton, Alta.) – The rise in popularity of cyclocross the past ten years has been focused around racing however over recent years, more and more events have opened up the possibilities of cyclocross cycling throughout America. The weapon of choice for recently crowned Elite Men's Canadian Cyclocross national champion, Michael van den Ham, and his team Garneau-Easton p/b TLC, the Garneau Steeple Elite has been redesigned and is available as a custom bike from Garneau's DreamFactory.
The whole package of a light and laterally stiff carbon frame with thru axles makes the bike handle like a dream and during the test I was able to dive in and out of corners with confidence. The RTCC carbon frame makes the Steeple both comfortable and light due to the employment of No Void technology, a process that reduces the amount of excess material inside of the frame. The geometry of the bike coupled with the laterally stiff frame makes you want to rail corners and get accelerated back to speed – putting a grin wide across your face. The bottom bracket drop is 66mm, which is a nice compromise between a low centre of gravity for stability and while maintaining an ease to bunny hopping obstacles and keeping the power down through twisty corners. Also, ventures off into single track were a blast since pedal strikes where less likely.
The 12mm thru axles on the front and rear of the bike stiffen up the steering by reducing the amount of flex induced by steering forces, which allows for more precise control and provides a snappy feel while corning. The responsive steering made flowing singletrack super sweet to ride as the bike felt like it was floating between corners.
The Steeple has an abundance of tire clearance that makes the bike very versatile. Not everyone will use the Steeple exclusively to race UCI cyclocross races where a mandated maximum tire width of 33mm is applied so the Steeple will accommodate up to a 45mm wide tire, which equates to a 1.75" mountain bike tire, perfect for those off-road adventure rides.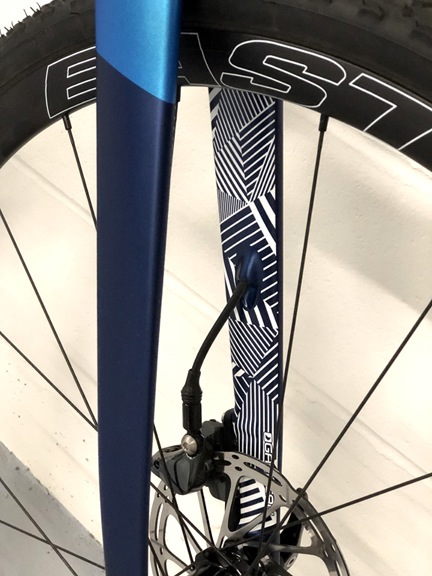 With the custom paint process of Garneau's Dream Factory, the frame is literally a blank canvas at the start. With all colour options available and the intuitive and easy to use online custom tool, it was effortless to dream up a design… and the excitement of waiting to see my creation delivered to my door was met with full anticipation – wow says it all.
SRAM Force 1 can be considered
the
groupset for cyclocross. With it reliability and sure-footed feel, Force 1 is an excellent choice of drivetrain and the Steeple Elite spares nothing. Shifters, cranks, derailleur, and hydro brakes complete the build into a thoroughbred CX racing steed. With the superb stopping power of the SRAM Force 1 flatmount brakes, braking can be postponed later, enabling you to carry a higher level of speed for longer, gaining a subtle but substantial advantage over the competition. Shifting and braking performance is dialed so you can leave it all out on the race course.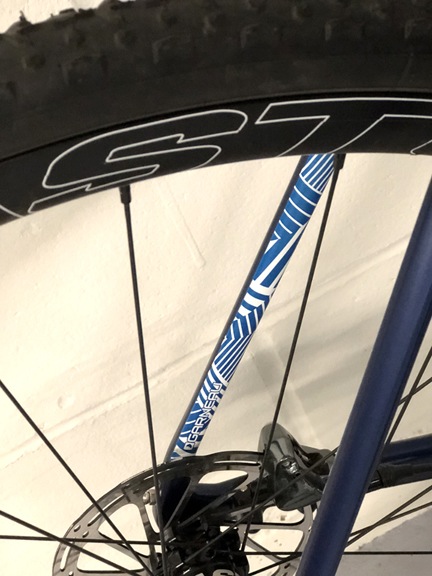 The Vittoria Cross XG Pro tires hook up with confidence inspiring grip due to the smartly shaped and spaced knobs, while the beefier TNT side walls accommodate a robust tubless set up and provide additional protection from side wall tears when riding over rougher terrain. In addition, the Easton wheels role smooth and carved corners with their light and bombproof setup. These aluminum wheels weigh in at a respectable 1560g and are built with Sapim double-butted straight pull spokes on future-proof Easton M1 6 bolt disc hubs. The 27mm deep tubeless clincher rim internal width is 19.5mm making it an ideal wheelset for tubeless cyclocross tires. Tested with tubes, a tubeless setup would lighten the load plus a lighter racing wheelset would really make this a killer on CX courses.
With a wider 3T bar and shorter stem, the Steeple has a feel of a MTB fit (wide bars, shorter stem) and this position in cyclocross provides the similar benefits of more stability and control when handling the bike.
Like a pure racing steed, the Steeple XC Elite CX1 awaits only the start signal to tear it up. The combination of a lightweight carbon frame that's stable in turns, high-performance disc brakes and a SRAM Force group allows its rider to push his limits lap after lap, knowing he has the right bike for the win, or any off road riding adventure.
Price: $6,449,99 CAD (custom painted)
Weight: 17.9 lbs (as tested)
Components: SRAM Force 1 hydraulic 11 speed with Flatmount brakes, Force 1 X-SYNC 40T cranks, 3T Ergoterra pro handlebar, 3T ARX II stem, Easton EA90 SL wheels, Vittoria Cross XG Pro 33c tires, Selle Royal Asphalt saddle
Frame/Fork: RTCC2 carbon, No Void molding2 technology with T12 axle, RTCC2 full carbon fork with T12 axle
Geometry: 71.5 degree Head Tube / 74 degree Seat Tube (as tested)
Sizes: S, M, L, XL
Comments: A light, comfortable and nimble cyclocross bike with a customizable paint job and versatility to be more than just a CX race machine.
Highlights:
Full RTCC Carbon Frame and Fork
12mm Thru Axles front and rear
Complete SRAM Force 1 groupset