November 24, 2017 (Geneva, Switzerland) – Canada scored a double podium in the Elimination race as Aiden Caves (Team RaceClean) took the win while teammate Evan Burtnick finished third on Day 2 at the 4 Jours de Genève track event at the Geneva Velodrome in Switzerland. Fellow Canuck and teammate Thierry Kirouac-Marcassa was 10th. This was Canada's second victory there… "Good first day at #4JoursdeGeneve. @Aidancaves and @eburtnik take the SuperSprint event. Sitting 4th overall at the moment. Our riders, also including Thierry Marcassa, are learning lots," tweeted coach Richard Wooles.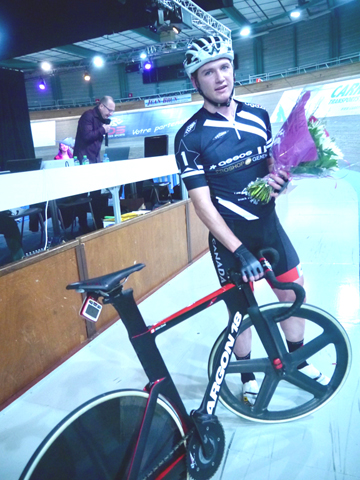 Results (brief)
1. Aiden Caves (Can) Team RaceClean
2. Daniel Staniszewski (Pol) Mostostal Pulawy
3.
Evan Burtnick (Can) Team RaceClean
4. Joseph Berlin Semon (Fra) AC Bisontine/Team Maloja Pushbikers
5. Emilien Clere (Fra) V.S. Chartrain
6. Stefan Mastaller (Aus) Maloja Pushbikers
7. Hannes Baumgarten (Ger) Maloja Pushbikers Back
8. Wojtek Pszczolarski (Pol) Tufo-Prostejov
9. Stefan Matzner (Aut) RSC ARBÖ Südburgenland
10. Thierry Kirouac-Marcassa (Can) Team RaceClean