May 29, 2013 (Toronto, ON) – Here are some photos from the Don Valley Forest Trail Clean Up on Saturday. People were coming and going, but at the end of the day we had about 30+ volunteers join in. Collected about 75 bags of litter and a few hundred pounds of heavy garbage. Over the years the team has helped remove close to 17 tons of garbage and helped build sustainable trails with the City of Toronto in the Don Valley.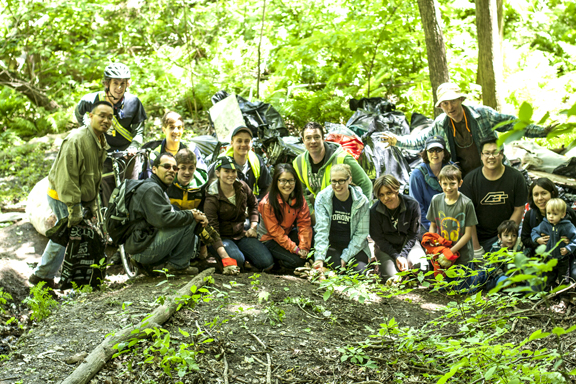 We were especially happy to see volunteers from the following groups:
– Thorncliffe Neighbourhood Office
– Thornciffe Public School (Outdoor Education Teacher)
– Thorncliffe Public School (Students)
– Thorncliffe Neighbourhood Men's Group
– Leaside High School
– John Ross Robertson Public School
– And of course students from UofT Mountain Bike Team
Many other local groups have said they would like to see the trails in the Don Valley remain healthy and sustainable and would like to collaborate in this event next year. Hopefully, as we work more with the property owners of the building where much of this litter is generated, and include the tenants in the event, this will soon no longer need to be an annual event. In time we will get there.
PHOTOS here.
Thank you for your support,