January 07, 2014 – (Kent, Washington) – Optum Pro Cycling presented by Kelly Benefit Strategies, one of North America's top-ranked UCI continental pro cycling teams, will partner in 2014 with Diamondback Bicycles, one of North America's most well-known and respected cycling brands. Unique in professional cycling, the Optum Pro Cycling presented by Kelly Benefit Strategies Team consists of one professional men's and one professional women's squad.
Both Optum teams in 2014 will race all the major pro cycling races in the U.S. and Canada on Diamondback's Podium Equipe, the brand's top-tier racing machine.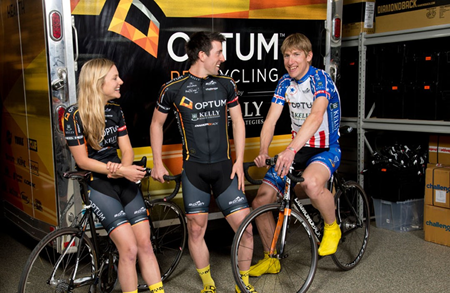 "Diamondback has made a significant commitment to our program and is working very closely with our staff and athletes to deliver the most competitive racing machines available," said Men's Performance Director Jonas Carney. "Diamondback's willingness to support us, and to collaborate in the areas that will help our riders get the most out of their racing, will be a major asset in 2014. "
Women's Performance Manager Kevin Field said the fact that Diamondback's designers are integrating directly with the team speaks to its commitment to road cycling.
"Knowing that our riders' feedback is going directly into new designs, prototypes and frame improvements makes us feel very confident in the bikes and vested in the relationship," Field said. "It's a true partnership."
Optum Pro Cycling is gearing up for the 2014 season, and recently announced its new men's and women's team rosters for the coming year. On the roster, there are six impressive national championship titleholders.
"Our partnership with Optum speaks as much to Diamondback's investment in road cycling as it does to our belief in the health and happiness that cycling brings to people," said Diamondback VP of Sales and Marketing Phil Howe. "Optum is passionate about bringing the values of 'human-powered health' to the masses and Diamondback wants to support that message through top-level racing and the inspiration that these riders can bring to all levels of riders, new and old."
In 2013, the Optum men's team finished the season as the number one–ranked team in the USA National Racing Calendar (NRC). It was the number two–ranked team (number one continental team) in the UCI America Tour, and rider Ryan Anderson was ranked number three in the UCI America Tour individual standings.
In its inaugural season as a women's UCI team, the women Optum racers captured the first ever USPRO Road National Championships with rider Jade Wilcoxson taking the title. The team finished second in the NRC and qualified for the World Team Time Trial Championships, where it finished eighth.
"This program has always strived to be the best in the business by employing top athletes and a well-rounded management, and always seeking the best equipment to make winning as seamless as possible," said Optum all-around rider Lauren Hall. "Diamondback's support for both our men's and women's programs at such a high level shows their commitment to all racing demographics."
Sprinter Alex Candelario said that, like many cyclists, he knows Diamondback well from its roots in mountain biking.
"So to now be sponsored by such an American icon is truly something to be proud of," Candelario said. "The Podium Equipe is a bike I can ride all day and feel strong in the finishing sprints as well. The geometry is a perfect balance of speed and comfort that will bring me to the line in a position to win."
In 2014, the men's team will focus on exceeding its 40 wins and 100 podiums in 2013, as well as on capturing wins in the most notable events on the calendar, including the Tour of California, Tour of Utah, USA Pro Challenge and Tour of Alberta. It will also focus on retaining its national title in the USPRO Criterium and Time Trial as well as adding the Road title.
Goals for the women's team in 2014, after 36 wins and 86 podiums in 2013, will be gaining on those numbers, winning NRC individual and team titles, and a podium result in the World Team Time Trial Championships in Spain in September.