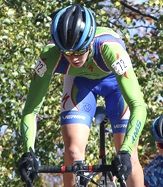 November 04, 2017 (Louisville, Ky.) – Day One at the Derby City Cup part of USA Cycling's ProCX race series was Canada's Tyler Clark (Centurion Next Wave) placed 5th in the Junior Men's race, Brody Sanderson (Centurion Next Wave) was 10th in the Elite men's race and Maghalie Rochette (Clif Pro Team) claimed 11th in the Elite women's competition. The Pan-American Cyclocross Championships will be held on Sunday, Nov. 5.
Derby CX City Cup Day One Report
Overnight rains made the new course at Joe Creason Park in the heart of horse racing country a heavy and muddy mix, which seemed to delight fans and racers alike for three top-graded contests – Junior 17-18 Men, Elite Women and Elite Men. Saturday races featured these three categories for USA Cycling's Professional Cyclocross Calendar (ProCX), and crowned overall winners for elite riders with the ShoAir US Cup-CX Series.
On the Elite side, Boulder's Katie Compton (KFC Racing p/b Trek/Knight) exploded back on the U.S. scene after a monthlong stint in Europe to win her second ProCX race of the season. With a close second-place finish, Kaitie Keough (Cannondale/Cyclocrossworld.com) of Racine, Wisc. was able to retain her season-long lead in the ShoAir US Cup-CX Series and take the top prize for elite women, including a $12,500 payout.
It was a double helping of victory celebrations for Stephen Hyde (Cannondale p/b Cyclocrossworld.com) of Easthampton, Mass., who came away with the C2 win and the ShoAir US Cup-CX Series title for elite men.
For the Junior 17-18 Men, Benjamin Gomez Villafane (Top Club Cyclocross) of Scotts Valley, Calif. returned to the top step of the podium for a fourth time this season. In a classic "down the stretch they come" race, Villafane made the final charge at the line to nip Alex Morton (Cannondale p/b Cyclocrossworld.com) of Saint Clair, Mich.
After three venues and six races in Sept. and Oct. for the inaugural ShoAir US Cup-CX Series, it would come down to the ProCX races in Louisville for the $35,000 prize purse to be decided. Keough held a slim 25-point margin over teammate Emma White of Delanson, N.Y. for the women. Hyde carried a 70-point lead over Kerry Werner (Kona Factory CX Team) of Birdsboro, Penn. for the men.
The first contest to be decided was for the Elite Women. A large field of 48 women tackled the hilly course at Joe Creason Park that provided grinding off camber sections and a dose of slippery conditions from mother nature. Compton pushed the pace at the front from the start and built her lead on each of the five laps.
"The course is really fun. It was muddy on the downhills and really heavy on the uphills. We had spread out, there was no sitting on. I enjoyed slipping around. It was the first mud race I have done all year," said Compton, who took her other U.S. victory this season at Trek CX Cup in Waterloo, Wisc.
"I think she had more in the tank, a bit more power to put down. I was trying to ride with her, but I couldn't keep her pace," said Keough, who finished 18 seconds behind Compton for second. "I did the best I could. You can't be disappointed because I tried. I came to try to win. I'm excited I won the US Cup, super stoked. Tomorrow I try for the Pan Ams."
Crystal Anthony (Maxxis-Shimano) of Newbury Park, Calif. was 29 seconds back for third, and Caroline Mani (Van dessel/Atom Composites) of France crossed the line 45 seconds back for fourth place.
One week ago in Cincinnati, the reigning U.S. National Champion had to push himself past 19-year-old Gage Hecht (Alpha Bicycle Company-Groove) of Parker, Colo. to win a C2 race. Saturday in Louisville looked eerily similar for a few laps. The C2 race for Elite Men at Derby City Cup began with 57 riders punching it hard from the start. But midway through the contest, decisive moves had four riders vying for three podium spots.
"I think it might have been Kerry who was the first one to put down the hammer. That spread it out. Then Stephen came up a little bit later and brought it down to four riders," Hecht explained about the action in the race. Those four riders were Hyde, Hecht, Kerry Werner (Kona Factory CX Team) of Birdsboro, Penn. and Tobin Ortenblad (Santa Cruz/Donkey Label Racing) of Santa Cruz, Calif.. The foursome gained as much as 30 seconds over the field.
With three laps to go, Hyde and Hecht were looking to make it a two-man show, until Hecht ran into trouble. "Eventually it whittled down to the two of us. I ended up accidentally just hitting a rock too hard in one of the drops, and I flatted. So I made it back to the next group behind us. I sat in there and recovered a little bit, as much as you can in a 'cross race. Then I put in a pretty hard effort the last two laps to bridge the gap. I wasn't able to get it back. It worked well though. I didn't expect to pull another one out like that, but it seemed to go pretty well. I was excited about it."
Hyde, who won two races at Derby City Cup last year, said the race was all about the four horsemen, mudders for the day. "I didn't really open up as much as I would normally do for a heavy race like this." He only needed to finish in the Top 25 to secure the US Cup title.
"So I was struggling real hard, and I was hoping that I would make the group and it would shatter. It was such a hard course. The top four today was really, really strong. I mean, Kerry and Tobin and Gage were riding so well. It was difficult to get any distance. I just tried to ride as smooth as I could. I rode my race, you know."
Werner and Ortenblad both finished eight seconds behind Hecht, but it was a final kick by Werner for the bronze. And with that, he got points to secure a second-place finish in the US Cup, with Ortenblad taking third in the series.
"I got on the pavement by a bike length over Tobin, and found the extra gear to hold him off for the sprint," Werner said. "I wrapped up second in the US Cup overall, so it is a great day. "
"This might have been the hardest course I've ever ridden in the U.S., 100 percent," Hyde added. "I've always been a really big fan of Devou (Park, site of Cincy CX) because it has so much elevation change, and it has been so technical. This is Devou plus 20 percent hard."
On winning the overall men's prize for the ShoAir US Cup-CX Series, he could not be happier. "I am so pumped. I am so excited. I think (the purse) went up to $12,500. This is a huge deal for us. To have such a big payout, to have everybody fighting so hard, this is the best racing we've seen in years.
"It's absolutely amazing to see the kind of racing we are having. Cannondale is the longest-running sponsor in cyclocross, and we are really, really happy to make them proud. I know I'm happy, I know Kaitie's happy. Having Emma so far up there too (in the final standings), and Curtis having some good rides at the end of the year, it's incredible for the whole team."
Villafane scored his fourth ProCX win of the year in the sprint finish for the Junior 17-18 Men on Saturday. He would use the paved stretch at the finish to better Morton by two seconds. For Morton, it was his third silver-medal finish in his third consecutive ProCX contest for junior men, finishing second at both days of racing at Cincinatti Cyclocross (Cincy CX) last weekend.
"This course is brutal. You've got some long straightaways that you can really motor it. And then you've got some technical downhills, off cambers and climbs. You have to be a very good all-around rider to pull off a great result. At the same time, if you are having trouble with technical sections, you've gotta bunch of straightaways and climbs that you can make up. It's a very great course," Villafane said about the new course in Louisvile.
Villafane entered the weekend in the Bluegrass State as the ProCX points leader in the Junior 17-18 Men's standings, and Morton was in third overall.
The pack of 27 junior riders made separation after the first three grueling climbs. In this group was Villafane, Morton, Lane Maher (Hot Tubes Development Cycling) of Harwinton, Conn., Calder Wood (Rad Racing NW) of Anacortes, Wash., and Canadian riders Conor Martin (Garneau-Easton p/b Transition) and Tyler Clark (Centurion Next Wave).
After the second lap, Villafane and Gomez made a break from the group. A small gap formed to the chasers, which included Clark, Wood, Martin, and Scott Funston (Rad Racing NW) of Maple Valley, Wash.
With three laps to go, the lead duo showed no signs of fatigue and had a 15-second gap to Martin, who was in solo position for third. Maher was no longer in the chase, as he had crashed, and he did not finish the race.
The lead duo showed no signs of fatigue and only grew their lead for their final sprint to the line. Wood would lead a group of five riders to the finishing stretch and take third, one minute and
four seconds behind Villafane.
On Sunday in Louisville, the Pan-American Cyclocross Championships will see athletes from 41 nations and will crown the top racers in five categories: Women Youth U-23, Junior Men 17-18, Men U-23, Elite Women, and Elite Men.
Also on Sunday is the final event for this year's American Cyclocross Calendar (ACXC). ProCX events for Elite Women and Men will be part the Really Rad Festival of Cyclocross, presented by Corner Cycle Cape Cod in Falmouth, Mass. It is the second year for the Really Rad Festival of Cyclocross, held at the Cape Cod Fairgrounds.
Results (brief)
Junior Men
1. Benjamin Gomez Villafane (Top Club Cyclocross) 43:43
2. Alex Morton (Cannondale p/b Cyclocrossworld.com)
3. Calder Wood (Rad Racing NW) 1:04
5. Tyler Clark (Centurion Next Wave) 1:15
Elite Women
1. Katie Compton (KFC Racing p/b Trek/Knight)  47:47
2. Kaitie Keough (Cannondale/Cyclocrossworld.com) 0:18
3. Crystal Anthony (Maxxis-Shimano) 0:29
11. Maghalie Rochette (Clif Pro Team) 2:46

Elite Men
1. Stephen Hyde (Cannondale p/b Cyclocrossworld.com) 59:28
2. Gage Hecht (Alpha Bicycle Co.- Groove Subaru) 0:06
3. Kerry Werner (Kona Factory CX Team) 0:08
10. Brody Sanderson (Centurion Nextwave) 2:35
12. Michael van den Ham (Garneau – Easton Cycling p/b Transitions) 2:36
22. Trevor O'Donnell (Lakeside Storage Cyclocross) 5:13
34. Gunnar Holmgren (Garneau-Easton p/b Transitions) -2 Laps