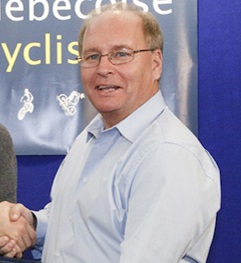 January 26, 2016 (St-Georges-de-Beauce, QC) – Denis Lévesque is leaving the organization of the Tour de Beauce (TdB) he announced this weekend on Facebook: "After over 24 years of volunteer work in the TdB it came time to retire. How lucky I was to rub shoulders with incredible athletes in a little-known and really underestimated sport as much in Beauce, as in Quebec or in Canada."
What of St-Georges de Beauce, home ground of 30 editions of the TdB, more than 8 national championships and more than 15 Quebec championships.
And for me the opportunity to meet incredible people.
Yvan Waddell, an athlete with a heart and a willingness uncommon, who became a friend, a true friend!
Louis Bertrand, our speaker and especially the best cycling commentator in Quebec … Canada … in America … And what friendship we have developed!
Réal Labbé, who convinced journalists that Denis Levesque had his place in the world of cycling, after his retirement became a volunteer at the Tour and gave me his friendship.
Friends, friends and more friends, Bastien Tremblay, Guy Laperrière, Martin Sirois, Josée Robitaille, Louis Barbeau, and more, sorry there are too many to name, pls forgive me!
There is one, a real must mention, the one who gave me his passion and love of the riders, Magel (Magella Tremblay), our Magel, the Magel all loved and who had adopted the Beauce as a second home.
All athletes who became friends: Dom Perras who calls me every year to encourage me! Gord (Fraser), a faithful and true friend, thank you and all the others!
I could spend hours presenting them. Maybe Réal could write a book, a small book, just to thank the people who gave me the chance to live this adventure.
I cannot ignore Brigitte, my girlfriend for 39 years, who allowed me to live my passion and always encouraged me. Anne-Marie and Jean-Fran… Thank you, Thank you, Thank you!
Friendship everyone!"
According to information posted on the FQSC website, Lévesque first became involved in cycling in 1993, not as a cyclist, but rather as the program director for the TdB. At the time he was a 35-year-old businessman and owner of a local restaurant. As a spectator, he watched four previous editions of the TdB and fell under its spell. Today Lévesque is CEO of a Toyota dealership according to his Facebook page.
The TdB was founded by Jean Lessard in 1986. More information about the history of the TdB here.
The Tour de Beauce celebrated its 30th Anniversary last year… read our story here.
Pedal joins the cycling community in thanking Lévesque for his many years of passion, service and dedication to the Tour and to cycling in Canada, and we wish him the very best on the road ahead.