August 25, 2011 (St-Basile de Portneuf, QC) – The Grand Prix de St-Basile race near Quebec City this past Sunday (Aug. 21) was missing Garneau-Club Chaussures-Norton Rose, widely considered Quebec's strongest road team.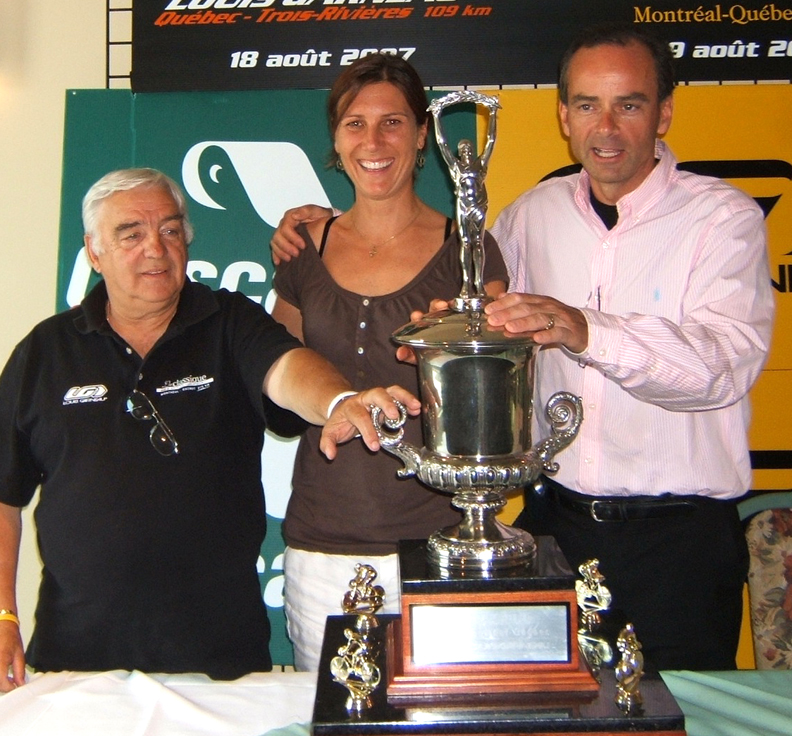 The Garneau team, sponsored by Quebec City-based manufacturer, Louis Garneau Sports, boycotted the race "for [self-] evident reasons and to show solidarity with Mr. [Louis] Garneau," according to a
press release
distributed by the team's directeur sportif, Christian Leduc. Louis Garneau, 53, a former Olympic cyclist, is the president and founder of the worldwide company that bears his name.
The Grand Prix de St-Basile and the Quebec Championship team time trials held here on Saturday, Aug. 20 were both organized by Jean-Yves Labonté who is alleged to have uttered death threats against Garneau earlier this year according to an article in le Soleil.
In previous interviews with Labonté, 73, he told Pedal that he coached Garneau when the latter was about age 13 years old and the two maintained a close relationship over three decades until 2007 when they parted company. Labonté remains a very influential person in Quebec cycling circles. This past weekend he told Pedal that he has organized perhaps 1,800 cycling events in his career but would not comment on the allegations against him given the pending court case.
Quebec TTT Championships Photos

Some Garneau team members, who spoke to Pedal on the condition that their names not be cited, claim that Labonté should withdraw from organizing bike races at least until the death threats case has been heard in court. We understand that a letter to this effect has been sent to the CCA and to the FQSC.
The Garneau team did participate in Saturday's TTT and won the senior men's race there. The winning four-man team was composed of Miguel Agreda Rojas, Rémi Pelletier Roy, Jean-François Racine, and Léni Trudel. Completing the podium were Dedacciai Hype ski vélo in second and Rocky Mountain-Desjardins Valeurs Mobilieres in third. The Rocky Mountain team is coached by Labonté.
The Garneau team was also at the centre of a recent controversy when Kiwi Brett Tivers (Garneau) pulled teammate Rojas to victory at the Quebec Criterium championships in Ste Agathe on July 31. Rojas is a naturalized Canadian residing in Quebec but Tivers is a New Zealand citizen. There still seemed to be bad feelings from that race echoing in St. Basile on Saturday.
GP de St-Basile Photos

"We have allowed non-Quebecer athletes to compete in such events in order to benefit from the event," FQSC director Louis Barbeau explained to Pedal earlier this month. "But it's not right for [a foreigner] to alter the outcome of the race. While the FQSC reaction is not finalized yet, we expect to change the rules before the next championships." – read more  HERE.
The Garneau team gave Sunday's GP a miss and trained instead. The senior men's GP de St-Basile on Sunday was won by Mathieu Roy (Gaspésien /Passion Vélo), followed by Sebastien Rousseau (Dedacciai/HYPE-ski vélo) in second and Philippe Nadon (Rocky Mountain-Desjardins Valeurs Mobilières) in third.
Le Soleil article HERE.
Results
August 20 – Quebec TTT  Senior Men's Results (brief) – full results not available.
1. Garneau-Club Chaussures-Norton Rose
2. Dedacciai Hype ski vélo # 1
3. Rocky Mountain – Desjardins Valeurs Mobilieres
August 21 – GP de St-Basile senior men's results (brief) – full results HERE.
1. Mathieu Roy (Gaspésien /Passion Vélo),
2. Sebastien Rousseau (Dedacciai/HYPE-ski vélo)
3. Philippe Nadon (Rocky Mountain-Desjardins Valeurs Mobilières)