June 03, 2013 (France) – Following his dramatic victory on Sunday at the first stage of the Critérium du Dauphiné WorldTour in France to capture the leader's jersey, Canada's David Veilleux (Europcar) is apparently going to the 2013 Tour de France according to QMI and broadcaster TVA. While still unofficial, the report claims Europcar's directeur sportif Andy Flickinger confirmed that Veilleux will be racing at the Tour. Thus, the 25 year-old Cap-Rouge rider will become the first Quebecer to ride at the Tour since Pierre Gachon rode with the British team there in 1937.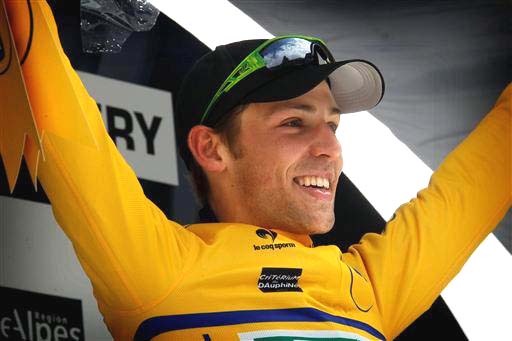 After his victory Sunday, Veilleux took the time to contact Louis Garneau, the owner of Louis Garneau Sports in Quebec City. "We've got it, a Quebecer at the TdF; unless he gets injured, he will participate!" Garneau told QMI.
"My team mates did extraordinary work… Thomas Voeckler rode for me because he knows that we are devoted to him. And he is ready to do that for us when the moment arrives," said Veilleux following today's Stage 2 where he finished 62nd. Veilleux remains in yellow at the Critérium du Dauphiné which continues through June 9. This year the TdF runs from June 29 to July 21.
The 2011 and 2010 Canadian crit champ turns 26 in November. In 2012, he won Italy's Tre Valli Varesine and France's Mi-Août en Bretagne. Pedal's coverage of the spectacular 121km stage victory on Sunday, the biggest win of his career, predicted that Veilleux, "…likely punched his ticket to the Tour." – listen to our interview w/Veilleux here – Stage 1 coverage here.
QMI article and TVA sportscast (in French) here.
Since posting this article Veilleux has denied that his team confirmed he will be going to the TdF as per his Facebook comment today [translated from French]: "And as for the Tour, nothing has yet been confirmed by my team. I am concentrating on the race [Critérium du Dauphiné] and after that we will see."
The article and broadcast (QMI and TVA) that we cite as our source in the link above are both sticking to their story – that Veilleux will be on the start line on June 29.