August 19, 2013 (Duarte, CA) – Dahon, the worldwide leader in folding bikes, and Best Lockers have announced Dahon Dock-In Stations, the industry's first bike share program that will enable riders to reserve, retrieve and return Dahon folding bicycles from GoPod™ Electronic Lockers located in hotels, on university campuses and from metro and public transportation stations.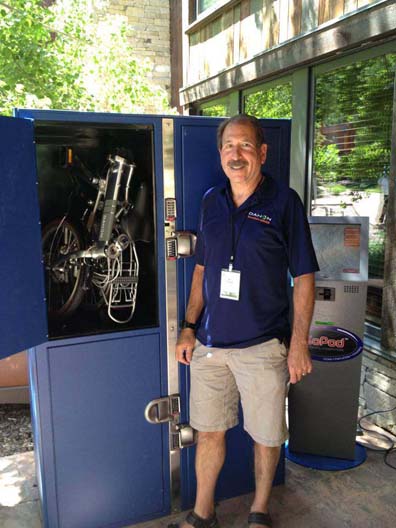 Ken Fagut, Dahon's North America Director of Sales and Marketing, said when the program launches this fall, riders will be able to reserve a bike at a special kiosk or using their smart phone and computer. They will receive a special access code to open the Best Lockers' electronic locker, containing a Dahon Vitesse D7HG. After completing their ride, they can simply return the bicycle to any empty bike locker.
"This program will be a smarter, more efficient and cost effective way to share bicycles," said Fagut. "Under this program we can put 16 Dahon folding bikes in the same space used to accommodate two standard bikeshare bicycles. The program also gives us the flexibility to customize both lockers and bicycles with matching colors and artwork to compliment a university, a hotel or municipality."
Available with a seven-speed Shimano Nexus internal hub with alloy frame, the premium Vitesse D7HG's high performance and lightweight design is ideal for city cycling putting the rider in the optimal position for top visibility, comfort and speed. The Vitesse folds in as little as 15 seconds to 11.3″ x 31.2″ x 25.7″.
"Dahon has long established itself as a leading provider of folding bike technology and we're honored they have selected Best Lockers as their partner," said Daryle Bobb, president of Best Lockers.  "We look forward to helping Dahon expand their footprint as more bikes will be available through our GoPod Electronic Locker solution which includes an intelligent keypad on every door.  Our comprehensive reporting capabilities will streamline operations while the GoPod kiosk will serve as an additional advertising vehicle.  Ken and the team at Dahon share our passion for innovative technology and enhanced customer service making for a natural partnership."
Fagut said that the Dahon Dock-In Stations program, which was highlighted at the National Bicycle Summit in Washington, DC, represents Dahon's forward thinking approach to promoting the importance of alternative transportation. Last year, the company announced its Green Mobility Award, with a prize of $13,000 given to an individual, group, company, organization or even city who has demonstrated significant efforts towards green mobility. Applicants can enter or be nominated on Dahon's website, www.dahonbikes.com and will be judged by a panel of experts. Winners will be announced and during this year's EUROBIKE and will be invited to attend the fair in Friedrichshafen, Germany.
About Best Lockers
Founded in 1968, Best Lockers is the concession industry's preferred personal locker provider with a full range of storage solutions backed by innovative design, sales and service. Best Lockers introduced the industry changing GoPod™ Electronic Locker in 2009 as the one-stop sales and rental center for lockers, tubes, cabanas, strollers and more. With over 40,000 GoPod™ Lockers installed worldwide, GoPod™ won the Innovation of the Year Award from the World Waterpark Association. For additional information, call 800-Locker4 (800-562-5374), visit www.bestlockers.com, or e-mail Craig Fredrickson at craig.fredrickson@bestlockers.com.
About Dahon  
In 1982, Dahon ignited the folding bicycle revolution with the introduction of the Dahon Folder, the forefather of most modern-day folding bicycles. Today, Dahon is recognized as the world leader in folding bicycles. Spearheaded by the guiding principles of innovation, reinvention and technology leadership, Dahon is committed to creating quality product user experiences and green mobility solutions for people who live active, environmentally friendly lifestyles. It is headquartered in California with offices, factories, cooperating assembly plants and distribution partner throughout the world.
For more information visit www.usa.dahon.com.