October 27, 2017 (Sherbrooke, Que.) – When it's almost time to call it a season, riders gather for two months of intense cyclocross racing. A mix of spectacular courses feature music and good beer to make for a fun atmosphere. With the 2017 CX Nationals about to begin in Sherbrooke, Que. Pedal spoke with ex-national team member and beer passionate, Pierre-Olivier Boily. He's the one in charge of turning this important race day into a fantastic bike party.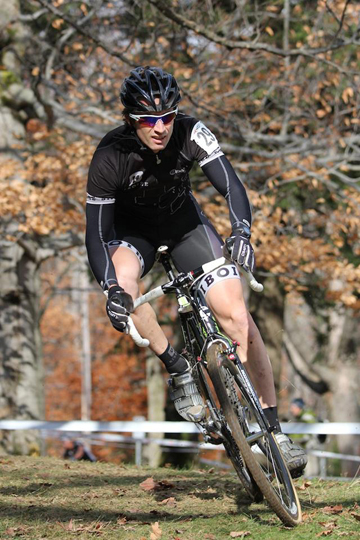 Let's go back at the beginning. In 2000, Boily just finished a long season on the road with the national team as a tandem pilot for paracyclist Stéphane Côté. He then found himself on the start line of a cyclocross race in Montreal. "I just got there, not knowing what this sport really was. Many friends from both the road and mountain bike scene were racing in the grass for the fun of it. It was a very nice day."
Back then, Pierre-Olivier Boily was about to move to Sherbrooke, where he started his Siboire microbrewery in 2007 with two partners who were just as passionate about good beer and cycling.
The Belgian Way
Sherbrooke was already a regular stop on the provincial cyclocross circuit. After his second Paralympic Games in Beijing in 2008, Boily decided to have another crack at cyclocross. "Organizers asked me if I could bring some beer to celebrate cyclocross in true Belgian style. I said no worries, I've got this covered."
Since then, Sherbrooke's cross races have never run out of beer. In 2015, Boily and his team even brought a huge tent and made a big beer garden similar to what they saw at many UCI races in the US. "It's such a nice gathering. People are serious all summer long… it's time to loosen up a bit, not worry too much but still race your bike really hard," adds Boily.
Brewed for Nationals
As more and more local cyclocross events ensure they have a brewery sponsoring their races, Siboire is raising the bar up each year. This year's nationals will feature a beer specially brewed for the event, La Déraillée (Eng: Derailed). "It's a Belgian IPA that my partner Joe brewed to warm up those who will be out there cheering for the riders," Boily explains. "Considering cyclocross roots, a belgian beer is a must. And cyclists love IPAs, so let's drink that."
Pierre-Olivier Boily and fellow organizing committee members hope for nice weather this weekend. But rain or shine, Sherbrooke is building its reputation in the cyclocross community. Organizers will soon start working on a UCI race weekend for 2018. "We're well positioned. The park is nice, the city is backing us and we're getting known for our party atmosphere," says Boily proudly.
When asked if he plans to remain involved with those new events, his final words are clear. "I've spent all of my life in cycling, I make beer for a living, and cyclocross is so much fun… it would be crazy not to continue!"
The party's just beginning… and is not about to stop too soon.
Registration for the CX Nationals is still open in every category, from youngsters to masters, until Thursday, Oct 26, 2017 at 5:00 PM EST – click here.
Visit the event's website and facebook page for more details.