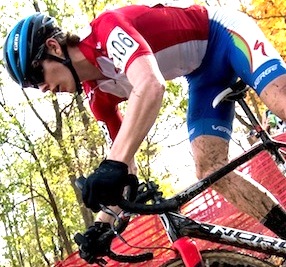 December 29, 2017 (Bredene, Belgium) – Reigning national junior men's CX champ Tyler Clark (Team Canada) keeps improving as he took home a 17th-place result in the Junior Men's race breaking solidly into the top 20. His teammate Conor Martin (Can) Garneau-Easton p/b Transitions Lifecare was 22nd also moving up nicely.
Magdeleine Vallieres Mill (Can) Team Canada matched Martin's 22nd place finish with a great effort in the Elite Women's competition won by Alice Maria Arzuffi (Ita) Steylaerts – Betfirst.
Brody Sanderson (Can) Team Canada was the top Canuck in the Elite / U23 Men's race won by Wout Van Aert (Bel) Crelan – Charles as Mathieu van der Poel (Ned) Beobank-Corendon settled for second.
Results
Junior Men
1. Gerben Kuypers (Bel) Lares-Doltcini CT 0:44:37
2. Filippo Fontana (Ita) Trentino Cross Giant Smp 0:47
3. Jelle Vermoote (Bel) Team Mahieu – Kona – Vandermeeren 1:12
4. Vladimir Miksanik (Cze) Ack Stara Ves Nad Ondrejnici 1:34
5. Yente Peirens (Bel) Lares-Doltcini CT 2:13
6. Joran Wyseure (Bel) Team Mahieu – Kona – Vandermeeren 2:35
7. Jakub Schierl (Cze) Expres CZ Scott Team Kolin 2:46
8. Baptiste Rivet (Fra) UC Condat 2:56
9. Tomas Jezek (Cze) Ivar CS Author Team 2:59
10. Jakub Toupalik (Cze) Cycling Academy Team
17. Tyler Clark (Can) Team Canada 4:12
22. Conor Martin (Can) Garneau-Easton p/b Transitions Lifecare 5:06
30. Dylan Kerr (Can) Team Canada -2 Laps
40. Colton Woods (Can) Team Canada -3 Laps
Elite Women
1. Alice Maria Arzuffi (Ita) Steylaerts – Betfirst 45:37
2. Helen Wyman (Gbr) 00:21
3. Loes Sels (Bel) Crelan – Charles 01:23
4. Elle Anderson (USA) 01:41
5. Eva Lechner (Ita) Clif Pro Team 02:28
6. Jolien Verschueren (Bel) Pauwels Sauzen – Vastgoedservice 02:45
7. Karen Verhestraeten (Bel) 03:01
8. Inge Van Der Heijden (Ned) 03:23
9. Nikola Nosková (Cze) 03:34
10. Fleur Nagengast (Ned) Telenet Fidea Lions 03:43
22. Magdeleine Vallieres Mill (Can) Team Canada 06:25
34. Siobhan Kelly (Can) Team Canada 08:14
DNF Helena Coney (Can) Team Canada
Elite/U23 Men
1. Wout Van Aert (Bel) Crelan – Charles 1:05:15
2. Mathieu van der Poel (Ned) Beobank-Corendon 01:27
3. Quinten Hermans (Bel) Telenet Fidea Lions 01:40
4. Tim Merlier (Bel) Crelan – Charles 02:02
5. David Van Der Poel (Ned) Beobank-Corendon 02:08
6. Dieter Vanthourenhout (Bel) Marlux – Napoleon Games 02:50
7. Daan Soete (Bel) Telenet Fidea Lions 03:06
8. Nicolas Cleppe (Bel) Telenet Fidea Lions 03:30
9. Joeri Adams (Bel) 03:43
10. Jim Aernouts (Bel) Telenet Fidea Lions 04:40
33. Brody Sanderson (Can) Team Canada 05:40
36. Nicholas Diniz (Can) Team Canada
43. Trevor O'Donnell (Can) Team Canada