November 22, 2013 (Montreal, QC) – Para-cyclist Marie-Claude Molnar, a bronze medallist at the London Paralympics, was part of almost 500 runners gathered in Place Ville Marie (PVM) 1, Montreal's fourth tallest skyscraper, on Nov. 20 morning for a stair climb race to raise money for charity.
The 16th annual RBC Challenge for Centraide pitted a relay team of top Olympic and Paralympic athletes against 47 other relay teams, mainly formed from local offices, to try race up 1,013 steps to the building's 41st floor in an attempt to break the all-time record of 2 minutes 41 seconds.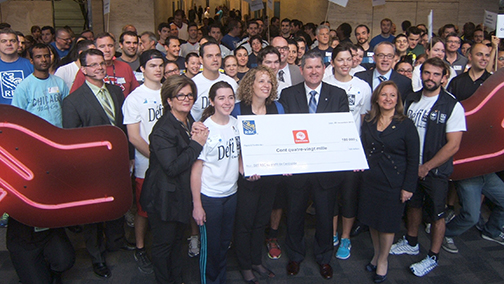 The athletes also included snowboarder Caroline Calvé (3rd on World Cup circuit), kayaker Hugues Fournel (7th at London Olympics), and freestyle skier Marc-Antoine Gagnon (5th at 2012 World Cup) were captained by Mikaël Kingsbury, freestyle skiing world champion and Olympic hopeful for the Sochi 2014 Winter Games.
In the end, Molnar's team finished behind a team of employees from RBC that completed the run in 2 minutes 44 seconds while the athletes came in second place, with a time of 3 minutes 7 seconds.
The run raised a record $180,000 for the local offices of Centraide (known as "The United Appeal" outside of Quebec). All the proceeds of this sporting event will be donated to the Centraide Campaign 2013. The goal of this campaign is to raise $58.5 million by December 18 to support a vast network of 369 community agencies that help half-a-million vulnerable people in Montreal, in Laval and on the South Shore.
"This will be more difficult than London [Paralympics in 2012]!" joked Molnar as she positioned herself on the 15th floor, waiting for Fournel to reach her floor before starting. "I will be running fast up 10 levels of stairs; about 200 steps. I have done no specific training for this event, but still feel ready for it!"
Molnar, who is also a non-competitive speed skater and cross-country skier, works for RBC as an "ambassador" to provide a role model for a sporting lifestyle. She was the victim of a serious driving accident in 2005 but her love of sports brought her into para-cycling where she finished second in the C4 category at the 2013 UCI World Championships in Baie Comeau, QC.
The all-time record of 2:41 stands from 2003, but it's uncertain which team established this record time. Place Ville Marie stands 47 stories or 188 m (617 ft) above University Street – almost as high as Montreal's iconic Mount Royal. When it was completed in 1962, PVM 1 was the third-highest building in world outside of the U.S.A. Today, it is the fourth highest building in Montreal after 1000 de la Gauchetiere, 1250 Rene Levesque, and Tour de la Bourse.
For Centraide donations online.