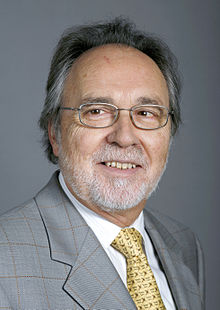 February 11, 2014 – Dick Marty, Chairman of the Cycling Independent Reform Commission [CIRC] appealed today for anyone with information which could help his commission understand cycling's doping past to come forward. The CIRC, which is based in Lausanne, was established by the UCI in January to investigate historic doping in cycling and allegations that the UCI has been involved in previous wrongdoing.
Mr. Marty, a senior Swiss politician and former state prosecutor has two Vice Presidents – Ulrich Haas, a specialist in anti-doping rules and procedures and Peter Nicholson, a former military officer who specialises in criminal investigations.
Dick Marty, Chairman of the CIRC said:
"The primary purpose of our investigation is not to punish doping offenders but to learn from the past so we can help ensure a better future for cycling.   We will treat all witnesses fairly and so I urge anyone in the cycling community with information that can help our investigation to come forward.   We have much work to do over the coming year and I hope, with the cooperation of the cycling family, the sport has a unique opportunity to learn lessons and regain trust."
The CIRC's Terms of Reference and the Regulations under which it is operating include:
•    The main focus of the investigation shall be to determine the processes and practices in professional road cycling that allowed the culture of doping to perpetuate over a sustained period of time, in particular to discover the main providers and facilitators of doping in cycling in the period 1998-2013.  Investigation into UCI past wrongdoings will also be a core part of the CIRC mandate
•    The investigation's primary objective is not to punish anti-doping offences by single riders, but rather to identify and tackle the practices and networks that have instigated and/or facilitated doping in cycling over the relevant period
•    The final objective of the investigation shall be the production of a comprehensive report illustrating the causes of, and responsibility for, the doping practices that took place within the relevant period and to make targeted recommendations to the whole cycling family
•    The CIRC will have the authority to propose reduced sanctions to any License Holder [e.g. riders, officials, agents, organisers, team staff etc] who admit to Anti-Doping Rules Violations [ADRVs]
•    The CIRC can reduce the sanction even further if the License Holder also provides valuable information concerning other ADRVs and/or other significant anti-doping relevant circumstances.  In addition, if the License holder confesses an ADRV to the CIRC, no return of prize money shall be ordered
•    The CIRC's ability to propose reduced sanctions is limited to License Holders who are not currently serving a period of ineligibility or facing disciplinary proceedings.  However, on a case by case basis, the CIRC can recommend an ad hoc reduction in sanction for a License Holder who is currently serving a period of ineligibility. This proposal will have to be approved by the original sanctioning body, WADA and the UCI
•    The members of the CIRC will operate on a completely independent basis and will not take any instructions from the UCI
•    The CIRC will conduct its investigation on a strictly confidential basis and will take all measures necessary to guarantee such confidentiality.
UCI President Brian Cookson added:
"Today marks an important step in understanding the past and restoring the credibility of our sport.  The Cycling Independent Reform Commission will not only help us learn from the past, but will also play an important role in shaping our future processes and practices. I committed to this process before I was elected in September 2013 and I'm pleased to see the CIRC fully operational only a few months later.  It is essential that the Commission is left to get on with its investigation on a completely independent basis and I have ensured that all the structures are in place to allow this to happen."
Mr. Marty is a well known political figure both in Switzerland (as a member of the Parliament) and in Europe (as a member of the Parliamentary Assembly of the Council of Europe). He holds a doctorate in law from the University of Neuchâtel. In 1975, Marty was nominated state prosecutor of Ticino, in which post he was specially noted for his energetic activities fighting organised crime and drug abuse. In 1987 he received an Award of Honor of the United States Department of Justice and a special award of honor by the International Narcotic Enforcement Officers Association. In 2005, Marty was appointed to lead an investigation by the Council of Europe into alleged illegal CIA secret prisons in Europe. On 14 December 2010, the Council of Europe entrusted Marty with investigating alleged inhuman treatment of people and killing of prisoners with the purpose of removal and illicit trafficking in human organs in Kosovo, involving politicians currently in power.
Mr. Haas, a German national specialised in anti-doping rules and procedures has been Professor of Civil Procedure and Civil Law at the University of Zurich since January 2008. He studied law at the Universities of Regensburg and Lausanne, and after obtaining his Ph.D. and qualification as a university lecturer at the University of Regensburg, he became a professor at Martin Luther University in Halle and subsequently at the Johannes Gutenberg University in Mainz. Mr. Haas' work and research has been concentrated on international civil procedure (including arbitration), company insolvency law and sports law. He is the editor of numerous publications in these areas and has worked for many years as a consultant and arbitrator. He is a highly respected arbitrator for the Court of Arbitration for Sport (CAS), the Deutsches Sportschiedsgericht and the Deutsche Institution für Schiedsgerichtsbarkeit eV (DIS).
Mr. Nicholson LLM MBA is an Australian national, a former Army officer, and since then a specialist in criminal investigations. He has extensive experience as a senior investigator and analyst in both national and international jurisdictions. Mr. Nicholson was recently advising varying levels of government in Afghanistan on ministerial strategic leadership and policy development of the police forces, and on matters of governance in part to counter corruption, fraud and intimidation. Beforehand he advised the government of Pakistan on policy development in counter-terrorism issues. He was a United Nations Independent Commission Chief of Investigations in Lebanon investigating terrorism cases, and investigated crimes for the International Criminal Court in Uganda and in the Democratic Republic of Congo. He was a team Leader at the United Nations International Criminal Tribunal for the Former Yugoslavia, and an investigator on the Srebrenica genocide case and others.
The commission can be contacted at the following e-mail address: contact@circ2014.com