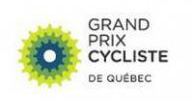 August 13, 2013 (Saint-Lambert, QC) – In the wake of the tragic events that took place July 6 in Lac-Mégantic, the organizers of the La Québécoise and La Montréalaise cyclosportive rides, and of the Québec City and Montréal Grands Prix Cyclistes de Québec (GPCQM), have incorporated fundraising initiatives into their activities scheduled for September 12 to 15. The news was announced at a press conference in Lac-Mégantic, attended by David Veilleux, Sébastien Delorme, Rémi Pelletier-Roy, Gabriel Filippi and Mélanie Olivier.
A two-stage effort 
The organizing committee of the new La Québécoise and La Montréalaise recreational rides is donating an initial amount of $5,000 to the Fonds Avenir Lac-Mégantic, and adding a further $20 for every rider registration received since August 1. The La Québécoise Cyclo, with start/finish line on Grande-Allée in Québec City, features 85 km and 140 km courses, along the charming country roads of Île d'Orléans and the hilly landscape around Stoneham, on Thursday, September 12. Two days later, on Saturday, September 14, cyclists will take part in the La Montréalaise Cyclo, starting from Candiac and winding their way along backcountry roads in the Montérégie, on a 90 km loop following the Circuit du paysan, and a 155 km loop that includes Covey Hill.
In addition, volunteers from the Canadian Red Cross, Québec Division, will be on hand near the start/finish lines of the five events featured during Grands Prix week, selling items and collecting donations from the public:
– September 12 – La Québécoise Cyclo and Challenge Sprint Pro (Grande-Allée, Québec City)  – September 13 – Québec City Grand Prix Cycliste (Grande-Allée, Québec)
– September 14 – La Montréalaise Cyclo (Parc André-J. Côté, Candiac)
– September 15 – Montréal Grand Prix Cycliste (Parc Jeanne-Mance, Montréal)
"The Lac-Mégantic community has provided first-class hospitality for the Canadian National Road Racing Championship since 2012, and to cyclists of all levels who come to the area to ride. It was therefore only natural that an organization like ours should reach out to people in the region," said Serge Arsenault, President of the GPCQM and of the La Québécoise and La Montréalaise Cyclos. "Also, as an entrepreneur, I understand only too well the scale of the challenges that businesses in the region are now facing. We are duty-bound to contribute to the Fonds Avenir Lac-Mégantic and to the Red Cross," he added.
The organizers thus seek to contribute to efforts to address the needs of the people of Lac-Mégantic, assist the many merchants who are the heart and soul of the city, and also contribute to various infrastructure projects, such as repairing the cycle path that passed through the downtown area.
"I wish to thank the organizers of the Cyclos for their initiative in support of our shattered community. Though some time has passed, our needs are still very tangible. People in the Mégantic area are particularly fond of cyclists, especially since this beautiful region is so perfect for this sport. So we are overjoyed to be part of this initiative," said the Mayor of Lac-Mégantic, Colette Roy Laroche.
Ambassadors of choice
The individuals approached to act as ambassadors for the initiative all accepted immediately. They are:
– David Veilleux (professional road racer, UCI WorldTour, Team Europcar)
– Rémi Pelletier-Roy (professional road racer, Team Garneau-Québecor)
– Sébastien Delorme (actor and cyclist involved in various cycling-related activities in Québec)
– Gabriel Filippi (well-known lecturer and mountain climber, Ironman triathlete, native of Lac- Mégantic)
– Mélanie Olivier (well-known sports nutritionist and consultant with the Cyclos).
"The Québec City and Montréal Grands Prix Cyclistes provide spectators in Québec with an event on par with the world's great bike races, like the Tour de France," said Europcar rider David Veilleux. "The 19 ProTeams, with many of the best racers on the planet, will be there to win. I'm very much looking forward to racing in this fourth edition in front of the fans at home, and I invite everyone to come out and support us along the 200-kilometre courses in Québec City and Montréal. And while there, to please take the time to help support the people of Lac-Mégantic," he concluded.
"Once again this year, we're expecting upwards of 200,000 people at the race sites in Québec City and Montréal, to watch the world's very best cyclists go all out and deliver spectacular performances. I can't think of a better opportunity to showcase the generosity of Québecers," added Marcel Leblanc, Executive Vice-President, GPCQM.