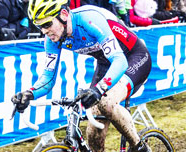 October 13, 2015 – Cycling Canada is hosting a town hall meeting for cyclo-cross racers, coaches and parents who are interested in being part of the national team program.
The meeting is part of the program for the Shimano Canadian Cyclocross Championships weekend. It will take place in the Forks Atrium in Winnipeg after the Manitoba Grand Prix of Cyclocross on Sunday, Oct. 25, starting at 7 p.m.
There will be a brief presentation on the Christmas cyclo-cross project, selection criteria for the 2016 UCI Cyclo-Cross World Championships, cyclo-cross funding and the future direction of the national cyclo-cross program. This will be followed by a Q & A session. The whole meeting is expected to last about an hour.
On hand will be national cyclo-cross manager Scott Kelly and Cycling Canada high performance manager Kris Westwood, as well as members of the Canadian Cyclo-Cross Working Group.
Please feel free to share this with anyone interested in cyclo-cross. People interested in being on the Canadian Cyclo-Cross  Working Group mailing list can sign up here.
The Canadian cyclo-cross program document can be found here.
If you have any questions about the program, please contact Program Manager Scott Kelly at scott@dundasspeedshop.com.
About the Canadian Cyclo-Cross Working Group:
The Canadian-Cyclo-cross Working Group is made up of various stakeholders from the Canadian Cyclo-cross community. The objective of this new initiative is to improve communications and planning around the Canadian Cyclo-cross program. The working group has been tasked with developing a sustainable cyclo-cross program, exploring funding opportunities and identifying and engaging leaders in the Canadian Cyclo-cross community to help drive these initiatives.
Working Group members:
Program Manager: Scott Kelly
NSO Rep: Kris Westwood
PSO Rep: Jayson Gillespie
Elite Female Rep: Mical Dyck
Elite Male Rep: Aaron Schooler
Industry Rep: Craig Richey