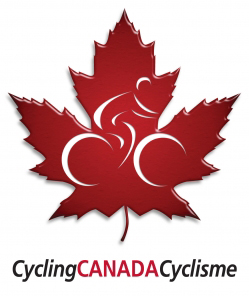 August 01, 2013 (Ottawa, ON) – Cycling Canada is proud to announce the cyclists selected to compete for Canada at the upcoming 2013 UCI Para-Cycling Road World Cup Finals to be held on Canadian soil, in Matane, Quebec, from August 23 to 25, 2013.
The Canadian Team is comprised of 23 athletes, including eight women, who will compete in the individual time trial races and the road races in hand-cycle, tricycle and blind and cycle categories.
"Canada has always been a top-performer in Para-cycling, winning consistently on the international tour, and this year has not been an exception," said Jacques Landry, High Performance Director and Head Coach at Cycling Canada. "For the 2013 season, we have focussed energies to find new talent for the upcoming Paralympic cycle, giving new riders some important international exposure as we prepare the foundation for a successful 2016 Rio Paralympic Games."
Although no Canadians are presently wearing the white jersey as World Cup leader since Canada did not send a full delegation to the first event of the season, many will be looking to score big results with hopes to win the jersey as the World Cup season ends in Matane.
In 2012, Canada won the jersey in six classes, with Robert Labbé (H1-M), the tandem of Daniel Chalifour and Alexandre Cloutier (BVI-M); the tandem of Robbi Weldon and Lyne Bessette (BVI-W), Shelley Gautier (T1-W), Marie-Eve Croteau (T2-W), Marie-Claude Molnar (C4-W) and the Men's Team Relay all winning the white jersey as the overall season winner.
Arnaud Litou, Program Supervisor for the Canadian Para-cycling team: "We will be using the World Cup in Matane as our final preparations for the UCI World Championships, which is held the following weekend in Baie-Comeau. Our team will be riding strong to score big results in order to win the coveted Crystal Globes. Racing together allows our athletes to develop effective and efficient communications system, and we intend to use those races in Matane to fine-tune these systems for the World Championships."
The Canadian Para-Cycling Team is coached by Eric Van Den Eynde and Sebastien Travers.
The Canadian Para-Cycling Program has worked really hard in the shadow, and its athletes are true and consistent international contenders. Added Litou: "We want to take these two weekends of racing in Canada to showcase the program, what we have done, the opportunities we can offer to race, from the beginner level to the top of the international podium. The program has grown strong in the last Paralympic cycle, and that's in large part dedicated to our sponsors, such as Garneau, Marinoni, Top End, Calfee, Cervelo, Quarq & Lemond Fitness."
Canadian Delegation – 2013 UCI Para-cycling Road World Cup Finals – Matane, CAN
Women
– Robbi Weldon [B] (37, Thunder-Bay, ON) [ITT & RR]
– Emilie Roy [Pilot] (26, Bromont, QC)
– Marie-Claude Molnar [C4] (29, Montréal, QC) [ITT & RR]
– Nicole Clermont [C5] (52, Sherbrooke, QC) [ITT & RR]
– Shelley Gautier [T1] (44, Toronto, ON) [ITT & RR]
– Marie-Ève Croteau [T2] (34, Québec, QC) [ITT & RR]
– Dominique Mainguy [T2] (35, Quebec, QC) [ITT & RR]
– Myriam Adam [H2] (20, St Jean sur Richelieu, QC) [ITT & RR]
Men
– Jaye Milley [C1] (22, Calgary, AB) [ITT & RR]
– Arnold Boldt [C2] (55, Saskatoon, SK) [ITT & RR]
– Sébastien Bouchard [C4] (34, Québec, QC) [ITT & RR]
– Robert Labbe [H1] (47, Québec, QC) [ITT, RR & Team Relay]
– Charles Moreau [H2] (31, Trois-Rivières, QC) [ITT, RR & Team Relay]
– Mark Beggs [H2] (37, Montréal, QC) [ITT, RR & Team Relay]
– Jimmy Pelltier [H2] (36, Quebec, QC [ITT, RR & Team Relay]
– Mark Ledo [H3] (36, Maple, ON) [ITT, RR & Team Relay]
– Louis-Albert Jolin-Corriveau [T2] (22, Ste-Claire, QC) [ITT & RR]
– Daniel Chalifour [B] (41, Mont-Laurier, QC) [ITT & RR]
– Alexandre Cloutier [Pilot] (39, Ste-Antoine-De-Tilly, QC)
– Alexandre Carrier [B] (24, Bromont, QC [ITT & RR]
– Aroussen Laflamme  [Pilot] (35, St Augustin des Maures, QC)
– Mathieu Croteaau-Daigle [B] (25, Thetford Mines, QC) [ITT & RR]
– Luc Dionne [Pilot] (29, Contrecoeur, QC)