July 08, 2015 (Toronto, ON) – Cycling Canada and Louis Garneau Sports are proud to unveil the approved design for the Team Canada uniform that will be worn by the Canadian cyclists competing at the 2015 Pan-American and Parapan American Games in Toronto this upcoming summer.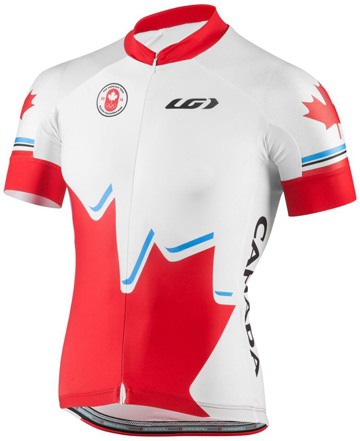 For the past 32 years, Louis Garneau apparel has played a key role in the performance, success, and professional appearance of the Canadian Cycling Teams at nine Olympic Games and countless World Championships, Commonwealth Games and Pan-American Games. Louis Garneau and Cycling Canada announced in 2013 a four-year deal that would see the Canadian-based cycling apparel manufacturer outfit the team through to the 2016 season.
The uniform, which for the first time was voted by the public via social media, will be white with the red maple leaf as the centrepiece of the uniform. A hint of the Cycling Canada trademark blue can be seen around the maple leaf. The shorts will be black, with the Canada wordmark on the each side.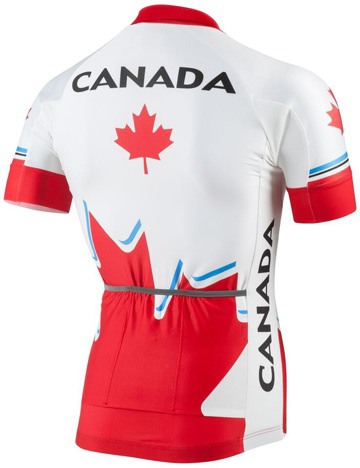 "The Team Canada kit has always held a special meaning for me. It represents my own cycling career, of course, but also the beginning of my corporate life. I am proud to support the finest Canadian athletes as they embark on their journey to the 2015 Pan Am Games. This year, as host nation, all eyes will be on Canada, and I want to personally send my best to all our Canadian cyclists," remarks Louis Garneau, President and Founder of Louis Garneau Sports.
"Both Cycling Canada and Louis Garneau have a commitment of excellence to our cycling athletes with the best possible tools they require to perform at the highest international level. Throughout our partnership with LG to design state-of-the-art competitive clothing, our athletes will continue to perform on the international scene with the best apparel on the market," said Cycling Canada High Performance Director Jacques Landry.
Known for its high-performance apparel that outfits some of the top riders and athletes in the world, Louis Garneau supply the teams with technologically-advanced apparel for optimal performances.
Louis Garneau has outfitted the Canadian National Cycling Teams since the Los Angeles 1984 Olympic Games, in which Louis Garneau himself competed. Since then, Louis Garneau Sports has been the official cycling apparel partner of Cycling Canada.
In addition to outfitting Cycling Canada, Louis Garneau notably outfits UCI Pro-Continental Team Europcar, UCI Continental team Garneau-Quebecor, and Canadian-based mountain bike team SCOTT-3Rox Racing.
Since the original partnership in 1984, Cycling Canada athletes have won 11 Olympic medals and collected 69 UCI World Championships medals.