December 02, 2015 (Ottawa, ON) – Cycling Canada is proud to announce a unique partnership with Italian artist and former racer Luigia Zilli, who runs the website www.BicyleArt.ca. The Oakville, Ontario artist has been painting for over 25 years and specializes in bicycle themed art.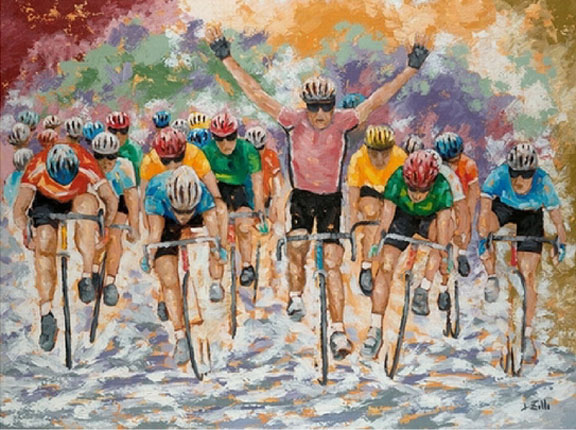 Over the years, she has painted numerous pieces featuring Canadian National Team Athletes across road, track, BMX and mountain bike disciplines.
Through this partnership, Zilli will donate paintings and artwork for use by Cycling Canada in annual fundraising initiatives. Additionally, 10% of all online purchase made here will be donated to Cycling Canada for investment in cycling development programs across the country.
Zilli's bicycle art became very popular since her first cycling painting in 2005, "Tour De France" which was based on an image of the first edition of the Giro di Burnaby, a professional cycling race that takes place in Burnaby, BC.
"We are honoured to partner with Luigia and BicycleArt.ca," commented Matthew Jeffries, Cycling Canada's Director of Marketing. "Luigia has demonstrated immense talent through her 25+years of painting experience. Her work is stunningly beautiful and her passion for the sport of cycling translates into wonderful pieces of art. She shares wholeheartedly our commitment to the long-term success of Canadian cycling, and we are grateful for her support."
Having grown up in Italy, Zilli is an avid rider and passionate about cycling, both from a recreational and competitive perspective. "I paint bicycles because they are my passion. Since childhood I have cycled and grown up in a family of cyclists and in a place where this sport is at its most popular. The inspiration has a lot to do with my personal experience and being involved in activities where the bicycle is at the forefront."
Cycling enthusiasts can purchase more than just paintings as Zilli also produces and sells wall calendars, holiday greeting cards, commissioned work as well as prints on canvas and paper.