February 26, 2014 – Racing is catapulting into the 2014 Enduro World Series (EWS) with a fresh squad equipped for results in a fast-growing category with no quit. "The new team comes at an exciting time for Devinci, coinciding with the launch of some amazing products," said team manager, Gabe Fox. "We've assembled a youthful crew and Alltricks.com on board is a big boost. Get ready to go racing."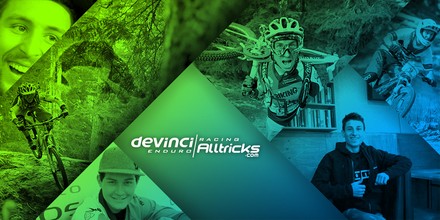 The Cycles Devinci/Alltricks.com Enduro Racing roster is led by French duo Theo Galy and Damien Oton. Galy is the 24-year-old reigning French Cup Champion and adds multiple top-15 EWS finishes to his expansive race resume. Ready to attack the season with upcoming races in Chile, he says: "I'm extremely proud to join Cycles Devinci. This cutting-edge Canadian brand defines mountain bikes for me."
Fellow 27-year-old Frenchman, Oton, adds experience and intensity to the Cycles Devinci charge with multiple top-10 EWS results and a 15th overall in 2013. Rounding out the lineup is American, Mason Bond. The 21 year old was 7th overall in last season's NAET Series and 5th overall at the Enduro Oregon Series.
EWS racing commences in April at Montenbaik Enduro, Nevados de Chillan, Chile. Seven 2014 stops span South America, the UK, Europe, Canada, and the U.S. Part of the EMBA group, which includes the venerable Crankworx series, the EWS is the flagship Enduro product-ushering in top riders from around the globe. Cycles Devinci/Alltricks.com will target all EWS races, as well as select events in Europe and North America.
"We're excited to have a great partnership with Cycles Devinci, and I am really happy with the roster that's been assembled this season," says Alain Piacentino of Alltricks.com. "It's a springboard for future success."
To commemorate the team formation, Cycles Devinci is giving away a yet to be released bike in conjunction with team sponsors. For details and to enter go to, facebook.com/Cycles.Devinci.
Cycles Devinci is a Canadian bicycle manufacturer based in Chicoutimi, Canada. It has led the industry by way of manufacturing expertise and product development since its inception in 1987. Cycles Devinci continues to forge ahead with suspension guru Dave Weagle's patented Split Pivot suspension platform. Combined with the company's Axis Technologies, Devinci is set on a path for domination. For more details on Devinci/Alltricks.com Racing, visit devinci.com.