May 15, 2017 (St-Raymond, QC) – Ariane [Bonhomme] and Cath [Ouellette] raced the St-Raymond stage race this past weekend.  The two-day, three-stage event was the qualifier for the Quebec team at this summer's Canada Games in Winnipeg in early August.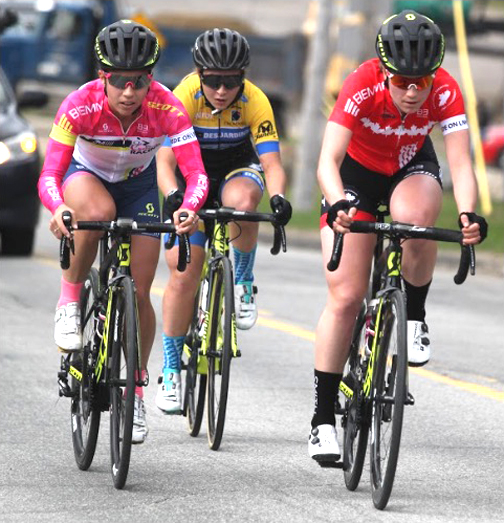 The team went in with dual priorities – ensure both riders made the team, and to try and win every stage in the process.  Day One's 65km road race saw the pair whittle down a larger breakaway to just the two Cyclery-4iiii riders and junior phenome Simone Boilard (as pictured above). Strong teamwork allowed Bonhomme to take out the win ahead of Boilard while Ouellette would finish 4th on the stage.
The next day opened with a 14.8km time trial.  Normally the girls would be racing on their Scott Plasma TT bikes, but Canada Games only allows the use of road bikes. Thankfully Scott's aerodynamic Foil models with clip-ons make a pretty hand TT bike in a pinch!  The girls put their bikes to good use going 1-2 on the stage, and coming one step closer to making the team.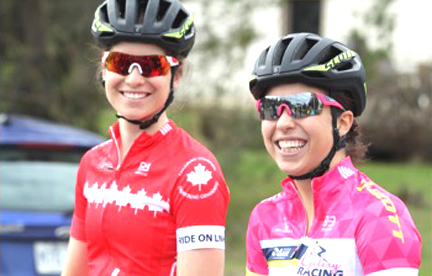 The last stage was a points race criterium, with 10 sprints over 40km.  The goal was to work to get Cath the win, and Ariane led her out in the opening sprints.  When multiple time national junior champion Daphne Izquierdo attacked, Ariane followed the move.  Izquierdo powered the move out to a near minute lead, facing Ariane with a tough tactical decision.
While she could sit on and hope Cath would keep mopping up the 3rd place points on offer, Simone's early success in the race meant that the math might not fall in the team's favor.  Ariane made a game time decision to change strategies and to try and lap the field- and she did!  Taking the lap gave Ariane her third win of the weekend, and proved to be right call as Boilard would actually finish with the most points of any rider- however missing the lap meant she would finish 3rd.
The girl's great teamwork and consistent racing saw both rider's nominated to the Canada Games team. Come out and cheer our girls on against the best in the world this weekend is our hometown race in Gatineau, QC on Friday, May 19 @ 6:30pm and on Saturday, May 20 @ 2:00pm. For more information check out their website on contact us directly.
Full results here.