December 31, 2017 (Ottawa. ON) – Curt Harnett received one of the top honours of his career being appointed as a Member of the Order of Canada announced on Dec. 29 by the Governor General. This year's list includes famous Canadians such as William Shatner and Jann Arden. Created in 1967, the Order of Canada, one of our country's highest civilian honours, recognizes outstanding achievement, dedication to the community and service to the nation.
Harnett was inducted for "achieving excellence in the sport of cycling and for his leadership as an advocate for Canadian athletes" and joins three other cyclists who were previously inducted Louis Garneau, Clara Hughes and Gordon Singleton.
"I. Am. A. Canadian. Not special nor unique, just a guy that gave my best to do my best while representing the country that I adore. I wore the maple leaf with great pride. The same pride I feel at this moment. Congrats to my fellow appointees. #proud #humbled," tweeted Harnett.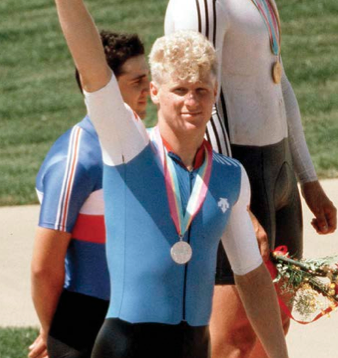 Harnett won a silver and two bronze Olympic medals during his fabulous career also setting a world record in the Flying 200m at
9.865 seconds –
the first rider to go under 10 seconds. He holds two track world championships silver medals, as well as five gold and three silver medals in world cup competition.
He was named Chef de Mission for Team Canada at the Toronto 2015 Pan Am Games and the Rio 2016 Olympic Games. Harnett was inducted into the Canadian Sport Hall of Fame in 2005 and the Canadian Olympic Hall of Fame in 2006. He was also among the inaugural nine athletes inducted into the Cycling Canada Hall of Fame in 2015.
"You never venture off and get involved in things with hopes and aspirations that you'd be awarded a significant honour for it. To have this moment come, I'm pretty proud of the moment. There's few things like sport that bring a country together, that unify a nation and help us celebrate ourselves collectively," he told CBC. "It's really exciting for me to be a part of that as an athlete."
The 125-strong new member list includes 4 Companions (C.C.), 35 Officers (O.C.) and 86 Members (C.M.) – Garneau and Hughes are Officers while Singleton and Harnett are Members. Recipients will be invited to accept their insignia at a ceremony to be held at a later date – official announcement
here
.