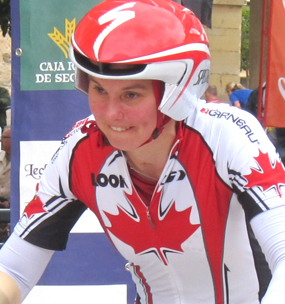 May 10, 2014 (Castiglione Della Pescaia, ITA) – Shelley Gautier of Toronto, ON, and Marie-Ève Croteau of Québec City, QC, continued their road domination and remained undefeated at the 2014 UCI Para-Cycling Road World Cup, both striking back-to-back gold medals in Castiglione Della Pescaia, Italy.
Today, the first set of road races were featured at this opening World Cup event of the season, and the Canadian tricycle power duo struck again, showcasing their talent and abilities.
Shelley Gautier managed to win the 24.6-km race with a time of just under one hour of racing. She lapped her closest competitor on her way to the gold medal. Gautier has proven to be an international threat in each of the World Cup or World Championships race, and is a true contender for another World Championships title this season.
Marie-Eve Croteau, who is pursuing her comeback after a severe crash that occurred in 2012, showed today that the intense rehabilitation work that was put in the comeback process was well worth it. She dominated the women's T2 road race, completing the 24.6 km race with a time of 49:33, more than five minutes before her closest chaser, and almost eight minutes before the third place finisher. Similarly to Gautier, Croteau is on the right track for the World Championships.
"Once more today, right from the start, I was feeling really good, and my right leg was ready. I can go and confidently say that I had full control over my race – for the first time in my life," said Croteau. "Mission accomplished here in Italy. I come back home with two victory, the World Cup leader's jersey and a bigger smile."
In the men's H4 race, Mark Ledo of Maple, ON was involved in an exciting eight-man sprint for the second position. Ledo crossed the line third of the sprint, and finished the 73-km race in fourth position, just off the podium.
"Today has been a very good day for Canada. The majority of athletes reached their goal to earn UCI points. The performances were stellar today, with two podiums and one top 4. The only shadow in today's races was the crash of Charles Moreau, who was forced to abandon. We hope to repeat this success in tomorrow's C and B road races," said Sebastien Travers, coach of the Canadian para-cycling team.
In addition to the four medals won yesterday, Canada's medal tally is now at six, including four gold medals.
The events ends on Sunday with the second set of road races and mixed team relay.
Women – T1
1. Gautier, Shelley [Canada] 00:58:16
2. Dolezalova, Karolina [Czech Republic] -1 Lap
Dnf. Ravasco, Johanna [Independent]
Women – T2
1. Croteau, Marie-Ève [Canada] 00:49:33
2. Majunke, Jana [Germany] +5:27
3. De Heide, Lisette [Independent] +7:58
Men – H4
1. Wilk, Rafal [Poland] 1:55:39
2. Jeannot, Joel [France +1:49
3. Ernould, David [Independent] +1:49
=====
4. Ledo, Mark [Canada] +1:49
Men – H2
1. Groulx, William [Usa] 01:42:42
2. Mazzone, Luca [Italy] +1:05
3. Rohan, Mark [Ireland] +4:04
=====
8. Labbe, Robert [Canada] -1 Lap
Men – H3
1. Tarsim, Riadh [Independent] 1:44:52
2. Deberg, Jean Francois [Belgium] St
3. Franek, David [France] St
=====
Dnf. Moreau, Charles [Canada]