November 13, 2015 (Shawnigan, BC) – So….what are you up to this weekend? If you are an active cross racer on Vancouver Island you know that there is only one place to be.  Shawnigan Lake School for round #7 of the 10th season of Cross on the Rock.  The Last Round.  Ronde Von Hogwarts. Not signed up yet? Better get on it! All the details for Sunday's Race (Ronde Von Hogwarts) are here.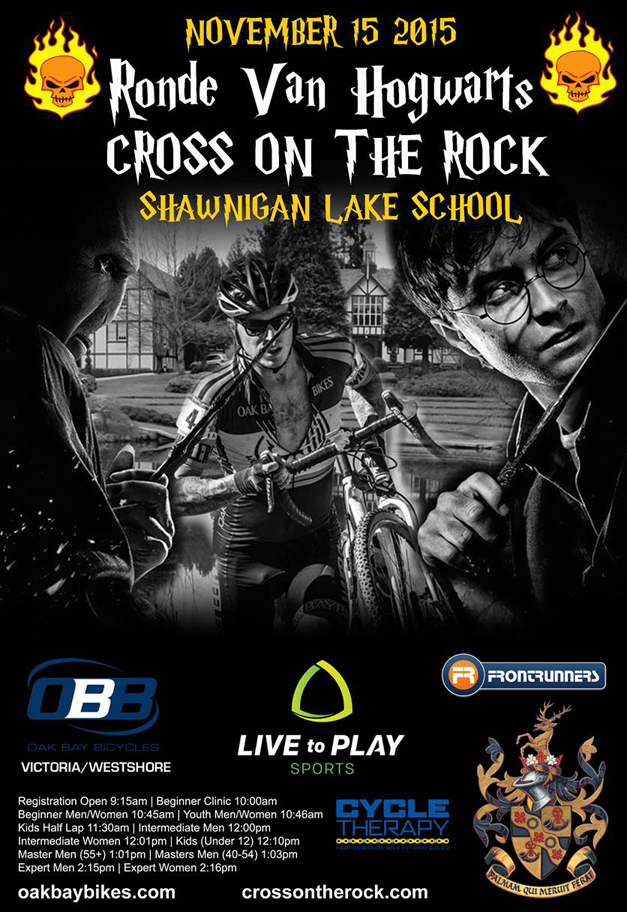 Here is the BIGGEST pre-race preview we have EVER done. This newsletter is dedicated entirely to Ronde Von Hogwarts.
If it is not clear the COTR Race #7 is being held at Shawnigan Lake School which is a private school.  As such there are a few rules and guidelines that need to be followed:
No open consumption of alcohol on campus. Students are on campus.
No shoes in the Rugby Pavilion (Where registration is) (see map.  Pavilion in yellow on left side of the map)
No shoes in the gym (Bring warm socks or slippers) (see map.  Gym is in yellow on the right side of the map)
No riding on the Rugby, Soccer and field hockey fields (You will be DQ'ed….we are THAT serious about it)
The Killing Curse (Avada Kedavra) on anyone who violates the above rules (see attached)
What you also need to know:
The change rooms will be open in the Rugby Pavilion (Where registration is)
The old gym will be used for the awards. (Doors open as soon as course is taken down)
Peter Creighton will be there from Cycles Lambert running the WD-40 Bike wash station (power washer is tuned up again)
We will have water available.
Food:
Wanna Waffle is coming.
We'll have water and coffee available.
There is NO FOOD TRUCK at this event. IF you know someone that has a food truck that wants to come out…..we would welcome them. Otherwise pack a bit of food for the day and drinks.
Getting there….getting Parked.
Parking access (see attached) is not through the main gates. Please encourage everyone to use the alternate access which is 100m further west from the main gates. All cars will proceed to the upper parking area until the lot is full. We will then direct vehicles to use the parking around the ice rink and gym. No parking around the main buildings and dorms.
Parking areas are outlined in BLUE on the map.
IF YOU ARE PARKING ON THE UPPER PARKING LOT YOU ARE THERE FOR THE DAY.  NO IN-OUT from 10:30-3:30
There is alternate parking and washrooms available here.
Course Description (According to Ian Craib the race director) (see attached preliminary map)
– Similar to last year at the top.
– But totally different every place else.
– Stairs
– Elevation
– Mud
– Pain
– then joy
Series standings here.
We had a few "sneakers" at the last couple of races.  Racers sneaking up to someplace they were not called up to.  With a lot on the line this Sunday and in respect of the racers that have made the effort to come out, race, get points and come back the grid will be "strict".  "Strict" means 8 rows.  Called up in ranked order and then random.  Line up behind the person in front of you.  Each row is 8.  No Sneakers.
Advance Notice:  Numbers will be on the RIGHT SIDE
Entrance to Shawnigan Lake School in Red
Parking Areas in BLUE
Rugby Pavilion/registration/washrooms in yellow on left.
Gym.  Awards.  Yellow on Right.
Any questions or want to send any information:
Contact Normon Thibault
E-Mail: normont@islandnet.com
Cross on the Rock (COTR) is a grassroots, laid back, fun, social, inclusive, surprisingly competitive Cyclocross series on Vancouver Island. It is organized through the efforts of many clubs, organizations and individuals collectively known as the "Council of Cross"