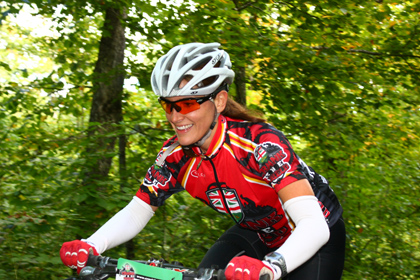 October 25, 2011 – After taking a year off of Crank the Shield in 2011, Chico Racing is delighted to announce the return of Ontario's own MTB stage race for 2012. Crank the Shield is back with a better-than-ever format and great new additions, which has many mountain bikers already calling this the must-do mountain bike event in eastern Canada.
With 100 participants already registered for this bi-annual event, Chico Racing promises drier trail conditions, up to 25% more singletrack and an exciting new overall stage formats. New for 2012, a 2-day version of Crank the Shield is available, allowing riders who can't get Friday off a chance to get in on the fun through the weekend.
Sean Ruppel of Chico Racing briefly explains some of the new highlights; "It's a lollipop format, where riders will re-use the best of our camps, Camp White Pine for both Friday and Saturday nights' accommodations. This will allow a totally new course for Saturday, weaving riders through more singletrack, epic backcountry riding and some spectacular back-road scenery. Boggy, rutted out ATV trails need not apply! "
Riders can expect the same tremendous cabin accommodations as year's past. This new format is also more enjoyable between stages by having the same bed both nights for riders. Plus, Crank the Shield has the best food of any stage race, as Chico Racing employs international chefs for the duration of the event. Also setting this event apart are the evening festivities, a massive mess-hall and fun course previews and awards each night. With a more rider-friendly course next years' edition promises to be the most accessible Crank the Shield ever. Be sure to check out the new Fall Crank the Shield Event Trailer by clicking HERE.
For more information on Crank the Shield, log onto www.cranktheshield.com