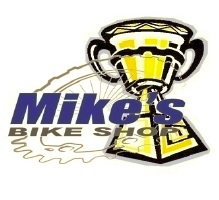 November 05, 2014 (Dieppe, NB) – Another great local cycling season comes to an end with the last (12th) stage of the Mike's Bike Shop Cup; a local Tuesday night racing series. This year, the format was a little different as it only included Cross-Country (Mountain Bike) and Cyclo-cross event, but six of each.In tonight's last stage, Jeff Currie took the final win. He was followed by Benoît St-Pierre and Phil Spinney. Stage 12 results
here
.On the cyclo-cross standings (best 5 out of 6 results), Benoît St-Pierre took the top spot with 420 points. He was accompanied on the podium by Julien Roussel (385 pts) and Jeff Currie (365 pts). Full standings
here
.For the complete season (mountain bike and cross) classification, click
here
. Keith Godfrey took the Championship with a total of 615 points. Jean-Richard Cormier (540 pts) and Julien Roussel (535 pts) were also on the podium.
Many thanks to our main sponsor, Mike's Bike Shop as well as to the City of Dieppe for the use of the Rotary Park. A huge thanks also goes to the many volunteers helping out every week, namely Mariette Roussel who is always there to help out with the registration and the results!
See you all in 2015!