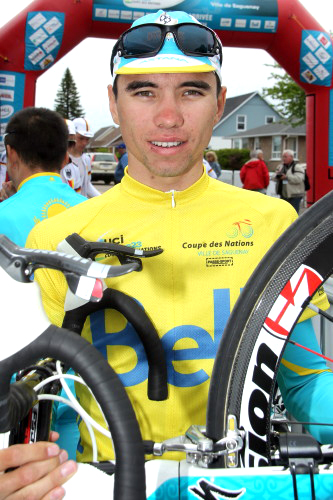 June 03, 2012 (Chicoutimi, QC) – Deprived of the title last year, Kazakhstan's Arman Kamyshev was finally crowned champion of the Coupe des Nations – Ville de Saguenay. Second in the overall ranking at the 2011 edition, the athlete defended the leader's jersey with verve. The stage victory was however claimed by Sebastian Lander, from Danemark.
"I am very happy. Of course, I would have liked to win the race, but the priority was the team. I am privileged to have such a strong team this year. In fact, my teammates did all the work" modestly declared Kamyshev.
The 21 years old who participated for a third time to the event held in Saguenay could come back to defend his title. "I am not sure if I will come back next year. It depends whether or not I sign with a professional team. If I don't, I will return with great pleasure. I love Canada, and mostly Quebec" explained the rider who also won the Points Classification.
At the beginning of the 128,4 kilometers race, two riders left the bunch. A chase rapidly organized itself behind, but it took more than 50 kilometer before the junction was made with the leading men. The deserters maintained the gap separating them from the main group for about 30 kilometers, after what some slowed down and reintegrated the peloton.
With only one loop to complete, most of the riders were regrouped. Many attacks occurred, but were all neutralized, mostly by the Kazak team, which was often seen at the front of the main pack. It is finally at the sprint that the event's outcome was determined. Lander was the first to cross the finish line, just in front of German Nikias Arndt and Polish Mateusz Nowaczek, respectively second and third.
Canadian Hugo Houle, one of the members of the day's main breakaway, ravished the polka dot jersey of best climber. French Julian Alaphilippe, winner of the stage held on Friday, defended with success his white jersey of best young rider.
From September August 26th to September 1st, riders will meet in France to compete at the U23 Nations' Cup finale. The outcome of the 2012 edition of this World Cup type circuit will be known at the end of the 51st Tour de l'Avenir.
For more information on the Coupe des Nations Saguenay pls click HERE.
Results
1. Sebastian Lander (Den) Denmark 3:11:13
2. Nikias Arndt (Ger) Germany
3. Mateusz Nowaczek (Pol) Poland
4. Daniele Aldegheri (Ita) Italy
5. Tanner Putt (USA) United States
6. Eduardo Sepulveda (Arg) UCI Mixed Team
7. Julian Alaphilippe (Fra) France
8. Natnael Berhane (Eri) UCI Mixed Team
9. Kristian Sbaragli (Ita) Italy
10. David Boily (Can) Canada
Final GC
1. Arman Kamyshev (Kaz) Kazakhstan 13:22:54
2. Julian Alaphilippe (Fra) France 0:12
3. Alexey Lutsenko (Kaz) Kazakhstan 0:14
4. David Boily (Can) Canada 0:17
5. Eduardo Sepulveda (Arg) UCI Mixed Team 0:18
6. Klemen Stimulak (Slo) Slovenia 0:19
7. Patrick Clausen (Den) Denmark 0:22
8. Michael Valgren Andersen (Den) Denmark
9. Olivier Le Gac (Fra) French
10. Sebastian Lander (Den) Denmark