January 09, 2013 (Quebec City, QC) – The Salon Info-Vélo consumer bike show in Quebec City will celebrate its 28th edition from March 8-10 this year, but things will be different as a new competitor rolls into town. The upstart Salon du Vélo de Québec will open the weekend of March 1-3 at the Galeries de la Capitale shopping centre, only a week before the Salon Info-Vélo at the Terminal des Croisieres in the Old Port.
"That was the only date available," claims Salon du Vélo de Québec organizer Jan Dubé from Montreal where he has been running the Salon du Vélo de Montréal (also known as Expodium) bike show for 11 years. "Many people were asking me to also do a show in Quebec City and when another event cancelled that weekend at the Galeries de la Capitale, I took their spot."
But Dubé has no objection to a date one week before his competitor's show and at the start of the nine-day Quebec spring school break. He claims to have already sold 50% of the floor space for the event including Louis Garneau Sports and Mountain Equipment Coop (MEC), two companies not allowed to exhibit at the Salon Info-Vélo.
"I am not going to change anything with my Salon Info-Vélo," counters organizer Jean-Yves Labonté, a long-time icon on the Quebec cycling scene. "None of my exhibitors have cancelled. I have a loyal following, especially among specialized boutiques. And I have a 27-year advance in organizing these shows! Dubé would be well advised to organize a better show in Montreal before coming to Quebec City. I am not going to lose sleep over this."
Labonté has famously prevented companies "that don't have a link to cycling" from exhibiting at his show and also frowned on retailers such as MEC that he considers a "discounter" that he claims can spoil the market for independent bike shops. Labonté once coached Louis Garneau, the founder of Louis Garneau Sports, and the two were close for many years before a falling out in 2007.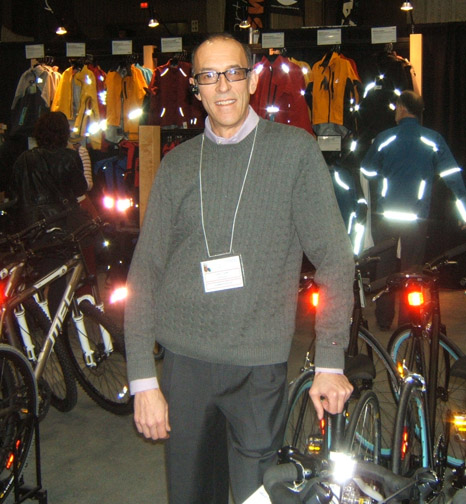 Dubé also insists that all exhibitors at his shows have a link with cycling. "I keep getting requests from companies that sell windows or alarm systems. I tell them to show me a link with cycling and we can talk…"
Labonté charges his exhibitors a starting price of $400 per booth and Dubé essentially matches that in Quebec City with a starting price of $500; a second booth goes for $300.
Dubé might have taken on not one, but two rivals as revealed by a remark Labonté made about, "being in contact with organizers in Toronto to ensure that I did not choose a date which conflicts with the March 1-3 Toronto Bike Show." But Dubé's choice of dates for Quebec City puts him in direct conflict with the Toronto International Show as well that same weekend.
"Yes, some companies will have to make choice this year about whether to attend the Quebec City or Toronto show," admits Dubé. "And few companies, like Garneau, will have teams going to both shows. The Quebec City show will have fewer competitors than Toronto, which will be an advantage for many exhibitors."
Meanwhile, Brian Miles, organizer of the Toronto show, was surprised to hear about the date conflict. "I'm never happy with two shows on the same weekend," he commented. "It's a mistake on their part; it will fragment the [Quebec City] market. They are also competing against us in a very small way."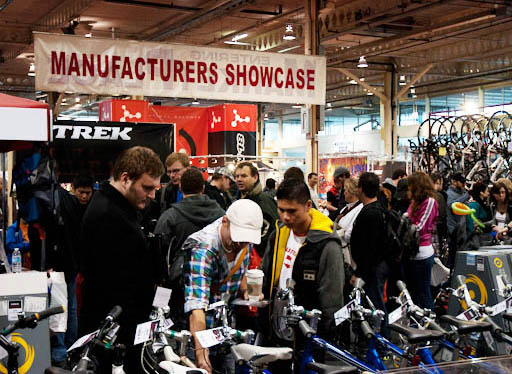 Miles also expressed doubts whether the new show will be around next year. "Two shows in one city doesn't usually last very long. And if the other guy has a loyal following, it will likely be tough for the new guy." Miles also maintains that for exhibitors trying to penetrate new markets, Toronto is the logical show to attend.
There will be no entrance fee for attendees at either Quebec City show, something that is a 28-year tradition for Labonté but a novelty for Dubé. His Salon du Vélo de Montréal show charges $12 admission for adults this year and has charged similar fees since first opening in 2002. The Montreal show dates are from February 15-17 this year and the venue is Place Bonaventure.
Dubé speaks of the advantage of hosting his QCity bike show at the largest shopping mall in Canada east of Edmonton with ample free parking, and offering couples the choice of having one go shopping while the other checks out bicycles. But Labonté scoffs at Dubé's choice of venue, "I already tried holding my show at the Galeries; real cyclists don't go there! But in 2012, I had 15,000 die-hard cyclists go out of their way to get the Terminal des Croisieres. I'm not afraid of the competition."
Information posted HERE suggests that some 59 exhibitors will be at Labonté's show, apparently displaying at some 130 booths. Labonté promises more information will be revealed shortly about novelties and entertainment for this year.
Information posted at Salon du Vélo website HERE indicates 223 exhibitors – including Pedal Magazine – in Montreal this year, but no information is posted yet about exhibitors in Quebec City. Dubé promises that this information will be made public by the end of January.
Will there be retaliation? Labonté, who has previously spoken to Pedal about expanding his show to Montreal, was vague on the question when asked this week. "I don't know about [putting on] a show in Montreal."
"I have great respect for Jean-Yves Labonté," insists Dubé. "This is about business and I am responding to a demand. If I don't go to Quebec City, perhaps somebody else will seize the opportunity. I don't want to start a war."