August 26, 2013 (Quebec City, QC) – Quebec cyclist David Veilleux (Europcar) wed his long-time fiancée, Emilie Coulombe, on August 24 Pedal has learned. Veilleux and Coulombe (married women keep their maiden name in Quebec) are now honeymooning in Mexico according to Veilleux's long-time coach, Pierre Hutsebaut. The newlyweds also had a house built for them in the region of Quebec City.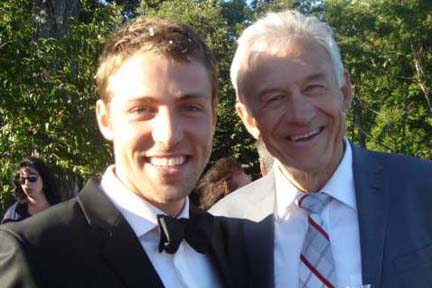 "It's a big year and a beautiful year for David," said Hutsebaut. "He has been very sought after by the media since the Tour de France." Hutsebaut has coached Veilleux since 2006.
Veilleux, who turns 26 in November, gained prominence in July as the first Quebecer since 1937 to participate in the TdF and being the first Quebecer to complete cycling's most prestigious event.  Veilleux also won the Boucles de la Mayenne earlier in 2013. He was the 2012 and 2011 Canadian crit champion and winner of the 2012 Tre Valli Varesine in Italy. From 2006–2009 he was the Canadian U23 ITT champion, coupling this with the 2008 Canadian road champ. In 2005, Veilleux won the Tour de l'Abitibi. Since 2011, Veilleux has been riding for the French-based Team Europcar and his contract has been renewed for 2014 according to Quebec City's Le Soleil newspaper.
At a press conference earlier this month, Mardis Cyclistes organizer Tino Rossi described how Veilleux in 2005 became "the only junior ever to have worn the senior men's yellow jersey" in the 36-year history of the Mardis crits. During the press conference Veilleux told Pedal that, despite being in Europe much of the year, he still tries to keep in touch with former teammates such as Martin Gilbert and Keven Lacombe. He also said that, while it is far too early to speculate on Europcar's future TdF team selections, he hopes to again race The Tour again and would concentrate more on stages that can do well in.
Despite earlier reports that Veilleux would race in the inaugural Tour of Alberta stage race Sept 3-8, Hutsebaut says that this is no longer in the plans. But Veilleux will race on home turf at the WorldTour Grands Prix Cyclistes de Quebec City et Montreal on Sept. 13 and 15.
Pedal joins the cycling community in sending best wishes to the newlyweds.