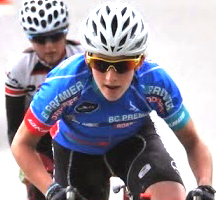 June 06, 2015 (Victoria, BC) – At 16 years old, Local Ride Racing's Maggie Coles-Lyster certainly has a few years to decide which cycling discipline – track, road or cyclocross – she's going to focus on. What's less clear though, is which one she'll pick as she just happens to be good at them all. Well, at least so far this weekend, as the junior cycling sensation wowed the crowds by winning the Cheemos Perogies Cycling Classic today and last night's Peninsula Co-op Sprint Challenge open and elite women's race title.
The Maple Ridge racer, who earned four gold medals at the 2014 Canadian National Track Championships, bronze at the cyclocross nationals and is gunning to make the World Championship 2016 cyclocross team, won a pack sprint at the Metchosin road race, finishing the 80K (8-lap) gruelling hill course in 2:35:10. Cowichan Cycle Cartel's Janna Gillick and Women's Team ATAC (Victoria) Brenna Pauly was second and third respectively.
The Cheemos Perogies Cycling Classic is the second event of the Robert Cameron Law Cycling Series p/b PISE, June 5-7, 2015 in Victoria.
The women's elite lead pack kept together the whole race under Coles-Lyster's watchful eye. "I wanted to try to attack when I could, so I watched the group, stayed with them and sprinted at the end," she said.
In the men's elite race, Trek Red Truck p/b Mosaic Homes' Craig Richey forged an aggressive race, launching an attack on the descent in the first three laps of the 120K (12-lap) race. The 2011 Bastion Square Grand Prix winner was joined two laps later by Accent Inns/Russ Hay's Jordan Landolt and the two never relinquished the lead attack, both battling for a sprint finish with Richey winning it in 3:11:15, two seconds ahead of Landolt.
"I was a bit ambitious," said Richey, originally from Smithers but now living in Victoria, "and was hoping someone would bridge across (to join). I was happy to have Jordan there as he's a strong rider and we're similar in strengths."
Pro City Riders' Isaac LeBlanc beat out a seven-man pack sprint to take third in 3:15:43.
Coles-Lyster feels she's pretty pumped to race the Accent Inns / Russ Hay's Grand Prix tomorrow and take a possible triple crown box of hardware home this weekend. Mical Dyck, the 2013 women's Grand Prix winner and Coles-Lyster's cyclocross colleague, a late entry for the criterium, might however, throw a bit of a wrench into that plan.
The Accent Inns / Russ Hay's Grand Prix is set to start tomorrow at 8 a.m. on a new, exciting criterium course around the Legislature Buildings.
Results
Women
1. Maggie Coles-Lyster (Local Ride Racing)
2. Janna Gillick (Cowichan Cycle Cartel)
3. Brenna Pauly (Women's Team ATAC/Victoria)
Men
1. Craig Richey (Trek Red Truck p/b Mosaic Homes)
2. Jordan Landolt (Accent Inns/Russ Hay's)
3. Isaac LeBlanc (Pro City Riders)