November 14, 2014 (Terrebonne, QC) – Clara Hughes, renowned Olympic medal winning cyclist and speed skater, was among six people inducted into the Québec Sports Hall of Fame (Panthéon Des Sports Du Québec) at a ceremony on November 12 in Terrebonne, northeast of Montreal.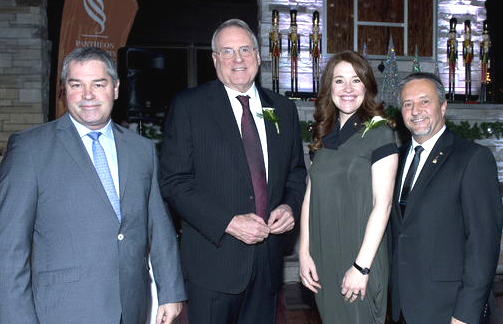 The list of inductees includes: Denyse Julien (badminton), Clara Hughes (cycling & speed skating), Serge Corbin (river canoe races), Ken Dryden (hockey), Rusty Staub (baseball) and Charles Cardinal (builder – volleyball).
"Very special evening last night being inducted into the Québec Sports Hall of Fame…my 'date' was my old cycling coach, Eric Van Den Eynde," posted Hughes on Facebook. "He's someone who had and has a big impact on my life. Éric is the ultimate humanist. He brought me back from a very dark period in my life and cared more about me than any result. He treats all his athletes the same, never sacrificing the person for the victory. Yet he still always managed and manages to get the absolute best out of each one of his pupils in sport. Éric is a true champion to me and I'm lucky to call him a friend."
Hughes, 42, is the only person worldwide to have won multiple medals at both the Summer and Winter Olympic Games. She was born in Winnipeg, Manitoba but has called Quebec's Eastern Townships home for many years now. Hughes rode for Specialized-lululemon in 2012 and also competed in the London Olympics that year.
Québec Sports Hall of Fame release (in French) here.