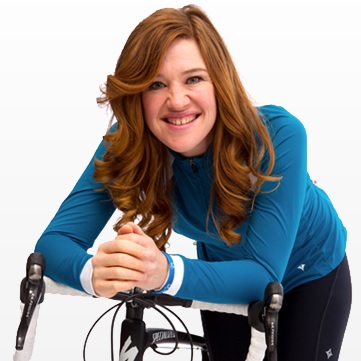 March 17, 2014 (Chatham, ON) – Clara Hughes Big Ride for Bell Let's Talk, a national bicycle tour around Canada in support of mental health, kicked off in Toronto on Friday, Mar 14 where she addressed a crowd of supporters at Toronto's Maple Leaf Square.
Hughes and her support crew, including her husband Peter Guzman who is riding with her, arrived in Chatham, ON on Sunday before heading to Windsor on Monday, March 17. From there, the ride will turn around and head east through Oshawa (Mar 21), Montreal, QC (Mar 26), Quebec City (Mar. 31), Edmunston, NB (Apr 7), Moncton (Apr 10), Charlottetown, PE (Apr 13), Halifax, NS (Apr 15), Stephenville, NL (Apr 20), and St. John's (Apr 28).
Then Hughes will continue by air, visiting many smaller communities enroute to Iqaluit, NU (May 1) Yellowknife, NW (May 4), and Whitehorse, YT (May 14).
The final leg of her trip starts from Victoria, BC (May 15), ultimately headed east for Ottawa where she hopes to arrive on July 1 – follow Clara's Big Ride here.
Clara's Big Ride will cover 12,000 kilometres through every province and territory, visiting 95 communities and connecting Canadians to the cause of mental health at the grassroots level.
"I can't wait to ride to communities in every corner of the country, meeting Canadians where they live and talking to them about how together we can make a real and positive difference in the nation's mental health," said Hughes. "From Saguenay to Saskatoon, Kuujjuaq to Cranbrook, Fredericton to Fort McPherson and everywhere in between, mental illness directly impacts 1 in 5 Canadians and affects all of us in some way. I'm looking forward to sharing stories with people in these communities and so many more as we fight the stigma around mental illness and drive awareness and action in mental health."
Asked if winter weather could throw her off this tightly-packed itinerary, Hughes responded, "I'm from Winnipeg. What's a little winter storm?" according to a CTV report.
Hughes, 41, distinguished herself in the sporting world as both a cyclist and a speed skater, becoming first person to win multiple medals in both Summer and Winter Games.  She won two bronze medals in cycling (RR and ITT) at the 1996 Atlanta Games. In speed skating Hughes also picked up one gold and one silver medal at Turin in 2006, together with a bronze in Salt Lake City in 2002 and another bronze in Vancouver in 2010.
Her Atlanta medals were the first Olympic medals in road cycling for a Canadian woman after Steve Bauer's silver at the 1984 Summer Games in Los Angeles. Her two Atlanta medals were part of five cycling medals at those Games for Canada including Curt Harnett's bronze on the track in the men's Sprint, Brian Walton's track silver in the men's Points Race and Alison Sydor's silver in the women's MTB xc race.
Hughes rode for Specialized-Lululemon in 2012 and competed at the London 2012 Games in the ITT where she finished 5th. She has also distinguished herself for work with the charity group, Right to Play. Among honours she has been bestowed, Hughes has been named to both the Order of Manitoba and as an Officer of the Order of Canada. Despite such a storied career path, Hughes admits to having struggled with depression.
More info:
CTV article here
Pedal article here
Map of Clara's Big Ride here
Wikipedia here