July 21, 2015 (Toronto, ON) – Top Chilean cyclist, Carlos Oyarzun, tested positive for a banned substance at the Pan Am Games reports the Chilean daily, la Tercera. On July 15, Oyarzun failed an out-of-competition doping test for FG-4592, an oral red blood cell booster, and the rider has returned to Chile.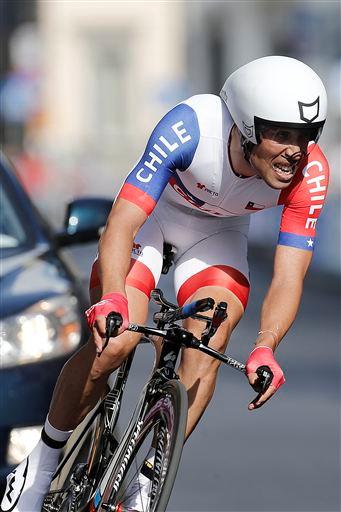 Oyarzun, 33, was expecting to compete as part of the Chilean national team at the Pan Am Games Time Trial in Milton on July 22. He rides for Keith Mobel-Partisan and previously rode for Movistar Team. Oyarzun finished first overall at the 2015 Vuelta Ciclista del Uruguay and La Tercera calls him the "best cyclist in Chile". He has previously competed at the Giro d'Italia.
The pharmaceuticals AstraZeneca and FibroGen collaborated in 2013 to launch FG-4592, a treatment for anaemia in chronic kidney disease and end-stage renal disease. In a dated press release, they described the product as "a first-in-class oral compound in late stage development for the treatment of anaemia associated with chronic kidney disease (CKD) and end-stage renal disease (ESRD)."
The Time Trials take place July 22 on the roads near the Cisco Pan Am Velodrome in Milton with the women starting at 11:05 a.m. and the men at 12:35 p.m.