June 06, 2012 – Here's the latest news from Chico Racing including O-Cup MTB #4 in Albion Hills June 9-10, TREAD trail running series, new for 2012 is the Sudbury venue for MTB O-Cup #5, Summer Solstice Registration, and Crank The Shield's new 2-day option.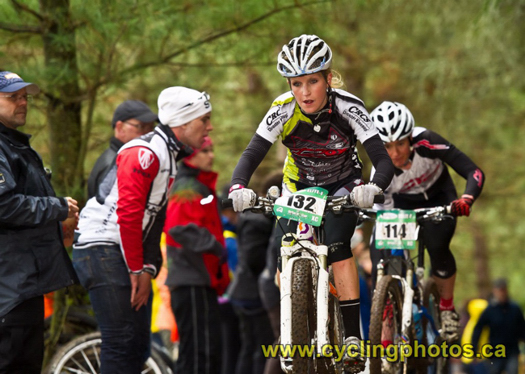 Plastiglas Ontario Cup #4, June 10
Albion Hills is the fourth stop on the 2012 Plastiglas Ontario Cup circuit. The course at Albion has continually evolved into one of the most exciting and unique courses in the GTA. Over the past 3 years, course designer Sean Ruppel and countless volunteers have been working hard to improve existing trails as well as create exciting new trails that can withstand anything that Mother Nature or 800 mountain bikers throw at them.
Plastiglas Ontario Cup #4 promises to provide an exciting day of racing for both young and old alike.
Pre-registration closes June 7th at midnight. Onsite registration is also available. Register Now!
TREAD Trail Running #2, June 9
This weekend also marks the second round of the TREAD trail running series. Everyone who attended the first round at Woodnewton knows this is Ontario's best kept secret in fun on the trail.  With both 6km and 12km courses, runners enjoy one loop of scenic beauty and challenging rolling terrain in the GTA's favorite conservation area.
Featuring the same high accuracy timing and attention to detail that Chico's MTB events are known for, runners are quickly discovering that this series is one of the best days you can have on the trails. Fancy yourself a true endurance star? Signup for both the running race and MTB race and save! Pre-registration here until midnight tonight and save, event day registration is available on site.
O-Cup #5 Sudbury, July 8
NEW for 2012 is the Sudbury venue at the Naughton Trails. With help from the amazing Walden Mountain Bike Club, this event promises to be well worth the drive up north. Have you been craving a little more rock in your racing diet? Then head up to the fifth stop on the Plastiglas Ontario Cup Tour where you'll find open, rocky trails with a healthy dose of fun and elevation.
Sudbury Accommodations – make it a family weekend and check out the Northern Lights Festival Boreal. Book now for the Radisson Hotel Sudbury Downtown with a special event rate of $119 per night with two double beds.
Summer Solstice Registration Closes June 15
The 15th annual Summer Solstice is just around the corner and promises to be the best one yet!
On June 23 – 24, more than 2000 mountain bikers will descend on Albion Hills for a weekend of fun, laughter and racing with their closest friends. For our 15th Anniversary we're turning things up a notch. Sporting Life will be on hand with some sweet gear to get you through the weekend. Shimano is back with some of their World Cup mechanics to make sure you're bike makes it through the weekend.
Specialized Canada will be on-site with their 29er demo bikes ready for you to take a hot lap on some cutting edge technology. One lucky racer will even take home a 2012 Specialized Epic Comp 29er!  Check out a sneak peak at what you can expect when you take out a 29er Epic here.
This year we've also partnered with Bikes Without Borders to support their work in marginalized communities. Sign up to raise money for new bikes and bike ambulances for community health workers in Malawi, Africa and feel good about your contribution to the world cycling community.
Registration closes June 15th so hurry up and register before you miss out on one of the highlights on the Canadian MTB season!
As always, an event of this awesomeness just isn't possible without an army of volunteers. E-mail Matt at info@chicoracing.com if you can spare a few hours out of your weekend to lend a hand and be a part of North America's largest 24hr event!
Crank The Shield, September 14-16, 2012 – new 2 day option
It only happens only once every two years! Register now 50% sold.
After a brief one year hiatus, Crank The Shield is back and it's better than ever! Course deisgners Sean Ruppel and Matt Douglas have cooked up an all new "lollipop" course design that has riders spending both Friday and Saturday night at the super comfortable Camp White Pine. Starting and finishing in the Haliburton Forest Centre, the 2012 edition will include some familiar trails to years past, such as the uber-fun bermed downhill at Sir Sam's, and 20 km of new singletrack 2 years in the making.
Crank The Shield has always attracted a diverse range of riders, including some of Canada's most talented racers and past Crank champions Peter Glassford (Trek Canada) and Matt Hadley (Xprezo Borsao). For 2012, world cup superstars Geoff Kabush and Derek Zandstra (Scott-3Rox) will be on hand to wage their own battle against the rugged terrain and stiff competition.
With lots of options for participation, Crank The Shield is now more accessible than ever. Register today and don't miss out on a truly unique and breath taking weekend of riding in Haliburton cottage country.
See our Geoff Kabush and Derek Zandstra Crank video in our next e-newsletter.