August 02, 2011 (Saint-­Lambert, Québec) – Serge Arsenault, President of the Grands Prix Cyclistes Québec–Montréal (GPCQM), is pleased to announce that all 18 ProTeams have confirmed their commitment to take part in the first-­ever edition of the Challenge Sprint Pro, to take place at 4 p.m. on Thursday, September 8, on Québec City's Grande-­Allée.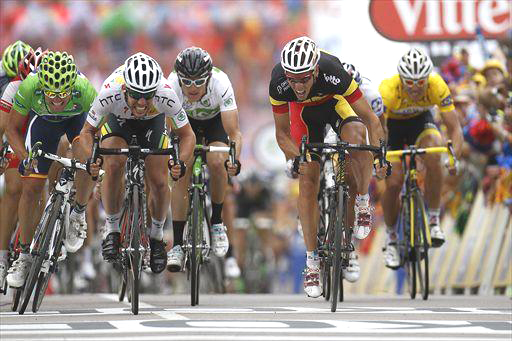 "The goal for this first year was to have 50% of the 18 best teams in the world in 2011 line up for the start, given that their participation was entirely optional. Having a representative from each of the teams entered in the Québec City and Montréal Grand Prix races is a dream situation!" Arsenault explained.
The 18 ProTeams will be joined by the four Pro Continental wild-­card teams (Europcar, Cofidis, FDJ and SpiderTech powered by C10) as well as two Canadian riders who will have qualified during the Challenge Sprint Canada, held just before the Challenge Sprint Pro and featuring Canada's top sprinters.
These explosive sprints in rapid succession are sure to be a thrilling experience for fans gathered all along the course. They will also make for great television, and broadcasters have shown a strong interest for the event which will be presented live on Eurosport to more than 50 countries, as well as on Rogers Sportsnet, Radio-­Canada, Évasion in Canada and NESN in the United States.
The Challenge Sprint Pro, inspired by the exciting dash to the finish line that concludes longer bike races, pits 24 racers against each other in successive heats over a one-­kilometre course. The top two finishers in each heat move on to the next round until the final showdown.
This initiative may lead to this type of event coming into more widespread use under the aegis of the International Cycling Union (UCI). The identities of the riders entered will be revealed a few days before the teams arrive in Québec City. The race will be organized under the auspices of the Canadian Cycling Association (CCA).
Charly Mottet, the GPCQM's Sports Manager and a former Tour de France yellow jersey wearer, commented on strategy for the event: "The number-­one requirement, of course, is to be a very fast racer and sustain a finishing kick over the last two hundred metres. But the eventual winner will also have to be a crafty rider who can tactically control his opponents."
Les Grands Prix Cyclistes Québec – Montréal In 2009, the Grands Prix Cyclistes Québec–Montréal organization was granted the first two UCI licences for ProTour (WorldTour as of 2011) races in North America.
The organization is responsible for planning and putting on races in Québec City and Montréal from 2010 to 2014. Please visit the website www.gpcqm.ca for more details on these races at the premier level of world cycling.