July 22, 2014 (Johannesburg, South Africa and Toronto, ON) – Thanks to a new partnership with Cervélo bicycles and Rotor components, Team MTN-Qhubeka continues its ambitious upgrade for 2015 and beyond.
The new Team MTN-Qhubeka partnership is built around a fresh team concept designed to take fan experience and interaction to a whole new level, with Cervélo co-founder Gerard Vroomen heading up the effort. Building on ideas developed with the highly successful Cervélo Test Team of 2009-10, the concept is designed to bring fans closer to the team and its riders than ever before.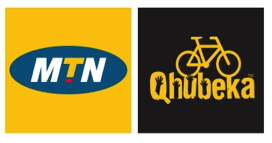 Racing ambitions for the team are high. The new partnership allows Team MTN-Qhubeka to support a contingent of talented young African riders, and to match them with seasoned professionals from Europe and North America. The goal is clear: showcase the team and the Qhubeka Foundation within the top echelons of the sport. The rider roster is currently being set and will be announced soon.
"Cervélo has always been synonymous with the highest levels of racing performance, "said team Principal Douglas Ryder. "The new team will be competitive on the world stage, and Cervélo has already won everything from the world championships to cobbled classics like Paris-Roubaix and Grand Tours including the Tour de France. Who better to give Team MTN-Qhubeka's riders the best opportunity to succeed?"
As Africa's first Pro Continental team, Team MTN-Qhubeka—and now Cervélo, together with its equipment partner Rotor—races with extra purpose, raising money for the Qhubeka Foundation to bring bicycle mobility to isolated areas of Africa.
"Cervélo is excited at the opportunity to support both the team and the Qhubeka Foundation," said Cervélo managing director Robert Reijers. "Not just in terms of high-performance racing, but also because we truly believe that by providing cycling mobility, we can directly benefit people's lives by increasing the distance they can travel, what they can carry, where they can go, and how fast they can get there."
To support those efforts, Cervélo will initiate programs to actively support the Qhubeka Foundation. The company will introduce team-replica bike models in 2015, with Cervélo donating a Qhubeka Foundation bicycle for every team-replica Cervélo sold.
"We're delighted that Cervélo has proposed matching its team bike sales with the donation of a Qhubeka bike. It brings the ability to support Qhubeka directly to hundreds of Cervélo retailers and thousands of individual riders worldwide," said Vroomen. "Like no other bike company, Cervélo understands that cycling needs new and better ways to connect with its fans. It's a great feeling to align Cervélo's DNA with the MTN-Qhubeka project."